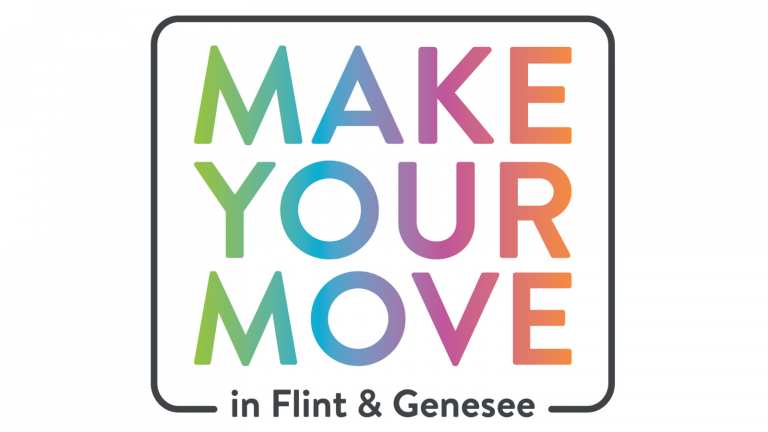 'Make Your Move' serves as resource for prospective residents, employers
(Flint, Mich., Jan. 11, 2022) Connecting employers with prospective new Genesee County residents just got easier with the launch of Make Your Move in Flint & Genesee.
The new talent attraction program from the Flint & Genesee Group aims to market the region to prospective residents and help connect them with local employers and opportunities. It's all part of the Group's efforts to support the county-wide economic vision of making Genesee County a top-five community in Michigan based on jobs, talent, livability, and equity by 2040.
"For our residents, employers and community to succeed, it's critical that we grow our region's population and workforce," said Brianna Mosier, director of Organizational Development at the Flint & Genesee Group. "Make Your Move is one way we're working to address that. Our goal is to showcase our region as a destination for innovative talent and help prospective residents see how they can build a meaningful career, community, and life here."
Here's how it works: External candidates answer a few questions at makeyourmovenow.org and upload their resume. From there, Flint & Genesee Group will distribute their information to local employers that align with their career path.
Candidates who opt in to the program will receive curated information relevant to their industry, life stage, and interests on a regular basis via email. They can also request to be connected to a Genesee County local who can answer questions about what it's like to live and work in the area—a key element of the new program.
"The prevailing wisdom is that a city has 90 days to make a new resident feel connected to the community," said Tim Carty, chief strategy officer of RoleCall, a national talent attraction consulting agency that worked with the Flint & Genesee Group to build out the Make Your Move tool. "With this program, we can start that clock before newcomers even get here, so they feel welcome and well-connected the moment they arrive in Genesee County."
Candidates in all career fields are encouraged to utilize the Make Your Move website, but a special emphasis will be placed on 11 key industries, including education, healthcare, engineering, manufacturing, and transportation.
So far, partnering employers include Rowe Professional Services, Mara Technologies, and Hurley Medical Center. Companies and organizations interested in becoming a Make Your Move partner are encouraged to attend an informational webinar on Jan. 17 from 9-10 a.m. To sign up, visit flintandgenesee.org/events.
In the meantime, Mosier encourages community members to share the website link with friends and family who live outside of the county.
"If you know someone who is looking to move back home, recently graduated from college or is just ready for a change, Make Your Move is a great resource," Mosier said. "The opportunities are here, and we have the supports in place to help future residents and workers find their way."