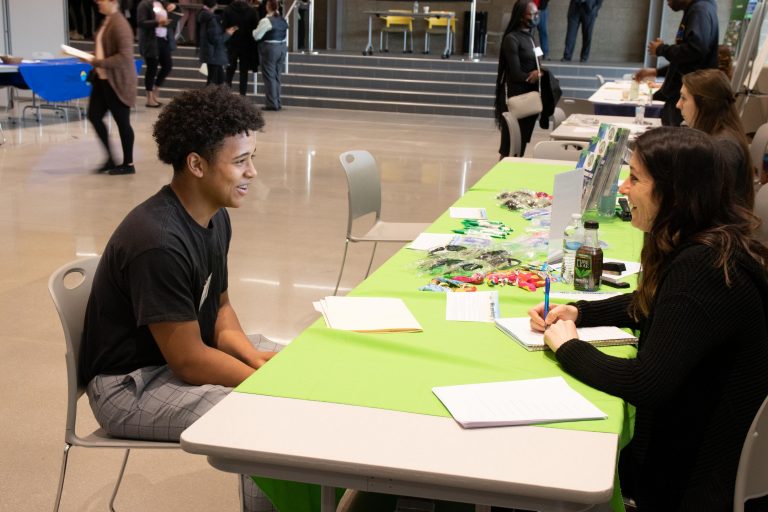 Email correspondence has been sent out to TeenQuest graduates ages 14-19 in grades 9-12 who are eligible to apply for Summer Youth Initiative (SYI). With a job fair set for May 6 at Genesee Career Institute, the division of the Flint & Genesee Group is encouraging teens to consider applying to work this summer.  
"SYI is the next step in our kindergarten-to-career continuum," says James Avery, director of Talent Development for Flint & Genesee Education & Talent. "Getting a summer job during high school doesn't just provide extra money for students, it gives them a great experience they can carry with them long after." 
A summer job helps students learn important life skills such as teamwork and communication. It also is a great way to make connections with business professionals that may be able to help students in the future.  
"We have 25 excellent employers on board looking to hire students this summer," says Avery. "Our for-profit and non-profit partners are looking for candidates with a variety of experiences from office and retail to warehouse and assembly, childcare and library assistant to recreation and food service." 
Employers participating in SYI this year include: 
Asbury Community Development Corporation

 

Beecher Community School District

 

Big Brothers Big Sisters of Flint & Genesee County

 

Boys & Girls Club of Greater Flint

 

Catholic Charities of Shiawassee & Genesee Counties

 

Centre of Lily Med Spa

 

Developing Respectful Education Minds with Sports (DREAMS)

 

Flint Children's Museum

 

Flint Freedom Schools Collaborative

 

Flint Fresh

 

Flint Institute of Music

 

Flint Public Library

 

Flint River Watershed Coalition (FRWC)

 

Food Bank of Eastern Michigan

 

Genesee County Community Action Resource Department

 

Genesee County Parks & Recreation Commission

 

Goodwill Industries of Mid-Michigan

 

Hand of Hope – FLM

 

International Academy of Flint

 

Mara Technologies USA

 

Motherly Intercessions, Inc.

 

Mott Community College

 

The Chosen Few Arts Council

 

Voice For Children Advocacy Center

 
For more information on SYI, visit EducateFlintandGenesee.org/Summer-Youth-Initiative/.  
Additionally, TeenQuest students who have not received a link to the application can update their contact information at the link above.