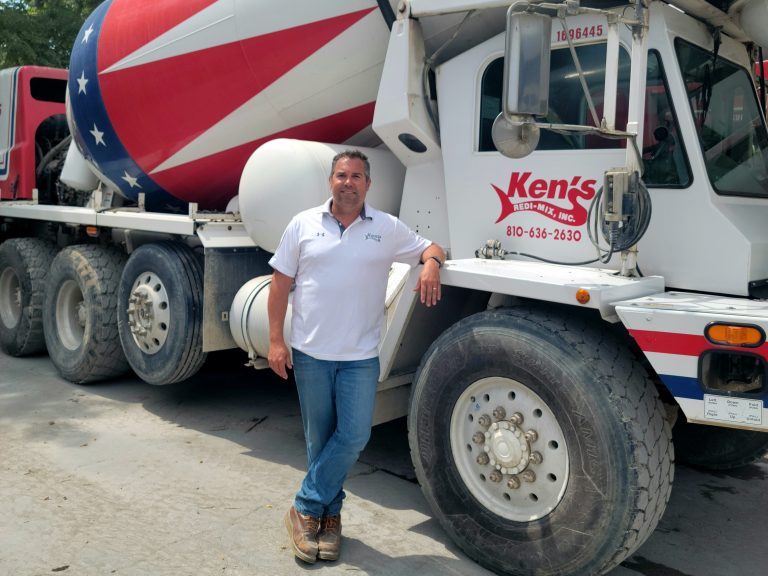 Thirty years ago, Brian King got an opportunity that would change the trajectory of his life forever. Working as a paperboy for The Flint Journal, King also took an opportunity to work a summer job for one of his subscribers, the owner of Ken's Redi-Mix – a local poured concrete supplier – and has been with the company ever since.
"Gradually, I fell in love with the craziness which is this life," says King. "We kind of grew together. It's not one of those jobs you envision yourself doing but I wouldn't have it any other way."
King now is one of the three owners of Ken's Redi-Mix along with Steve Schupbach and Jeff Bailey – all of which worked for the family who owned the business before taking over eight years ago.
"Ken's grandson, Brad Brigham, was currently running the business and was ready to be done," says King. "So, we took him up on his offer and bought the company."
Ken's Redi-Mix started in 1952. The original owner, Ken Horton, started with a few trucks, buying concrete from another local company. He gained a handful of customers and hired a few workers and by the early 1960s, Horton built a concrete plant in Goodrich and began to grow the business from there. In the 1990s, the company acquired another plant in Clio.
Now, the company employs up to 45 employees between both locations, continuing 70 years of success.
What are your proudest moments working with Ken's Redi-Mix?
When we take on projects with large-scale companies. We pride ourselves on on-time delivery and service, and larger companies are always surprised by how well we can keep up.
Why have you stayed in Flint & Genesee?
Genesee County has good clientele for the business. Goodrich is in the southern part of the county and Clio is in the north end, so we can cover a broad area pouring cement where we are. Genesee County is a good home base.
How would you describe the business environment in Genesee County?
It's good. I deal with other counties where you might not get as friendly of a response. The people here are willing to help and willing to work with you.
What is your business philosophy?
It's about making sure the customer is happy, making sure you have quality products and making sure your employees are treated well and have an open line of communication with you.
How is your business involved with the community?
We support Good Times in Goodrich, which is a large car show and charity event that raises money for local families in need. We also support a lot of the school sports programs and help with graduation.
Why did you decide to become a member of the Flint & Genesee Chamber?
We were introduced to the Chamber scene by attending the Hot Dogs & Hot Rods event with other Chamber members during the summer. It was a big reason for joining.
What advice would you offer other business owners or entrepreneurs?
When starting a new business, prepare for a bumpy ride and expect the unexpected. Treat your people well, whether it's your employees or customers. And don't try to do it all in one day.
For more information on Ken's Redi-Mix, visit kensredimix.com.