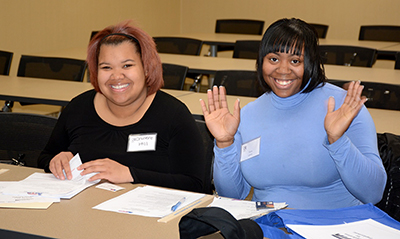 September 2, 2015
Matching Funds Available to Employers
Employers looking to fill entry-level positions will have the opportunity to choose from hundreds of qualified candidates at the next Flint & Genesee Chamber of Commerce's Job Fair, which will be attended by alumni of the Chamber's TeenQuest/Summer Youth Initiative (SYI) and Career Edge programs.
"The job seekers at this event have gone through considerable training in relation to business etiquette, teamwork and other soft skills that are key to thriving in today's workplace," said Rhetta Hunyady, Vice President of Education and Training, Flint & Genesee Chamber. "What's more, they are prepared to apply those skills in real-world work environments. These are the kinds of candidates that today's employers are seeking."
Prior to the invitation-only job fair, to be held Sept. 18 at Baker College in Flint, job seekers will submit applications to the Chamber. Chamber staff will then coordinate interviews based on mutual interests and opportunities. Applicants who cannot attend the job fair can also submit resumes, which will be routed to companies that may have employment opportunities based on their career pathways.
The cost for employers to participate is free for Chamber members and $100 for non-members. The $100 fee can be applied toward a new Chamber membership.
Employers must register by Sept. 4 to participate. To register, apply online at flintandgenesee.org/learn/job-fair-business-application/.

Matching Funds Available to Employers
Companies that participate in the FGCC Job Fair and hire TeenQuest graduates also have an opportunity to apply for matching funds to offset one half of the costs incurred during the first 90 days of employment.
If seeking matching funds, employers would need to:
Hire TeenQuest alumni
Submit payroll verification with a reimbursement request to the FGCC on a bi-weekly basis during the first 90 days of employment
Notify FGCC if an employee is terminated and provide the reason for termination
Agree to site visits by FGCC representatives to observe alumni at your worksite(s).
Please note that this is a limited resource based on available grant support.
Limited funds are also available for Career Edge alumni.