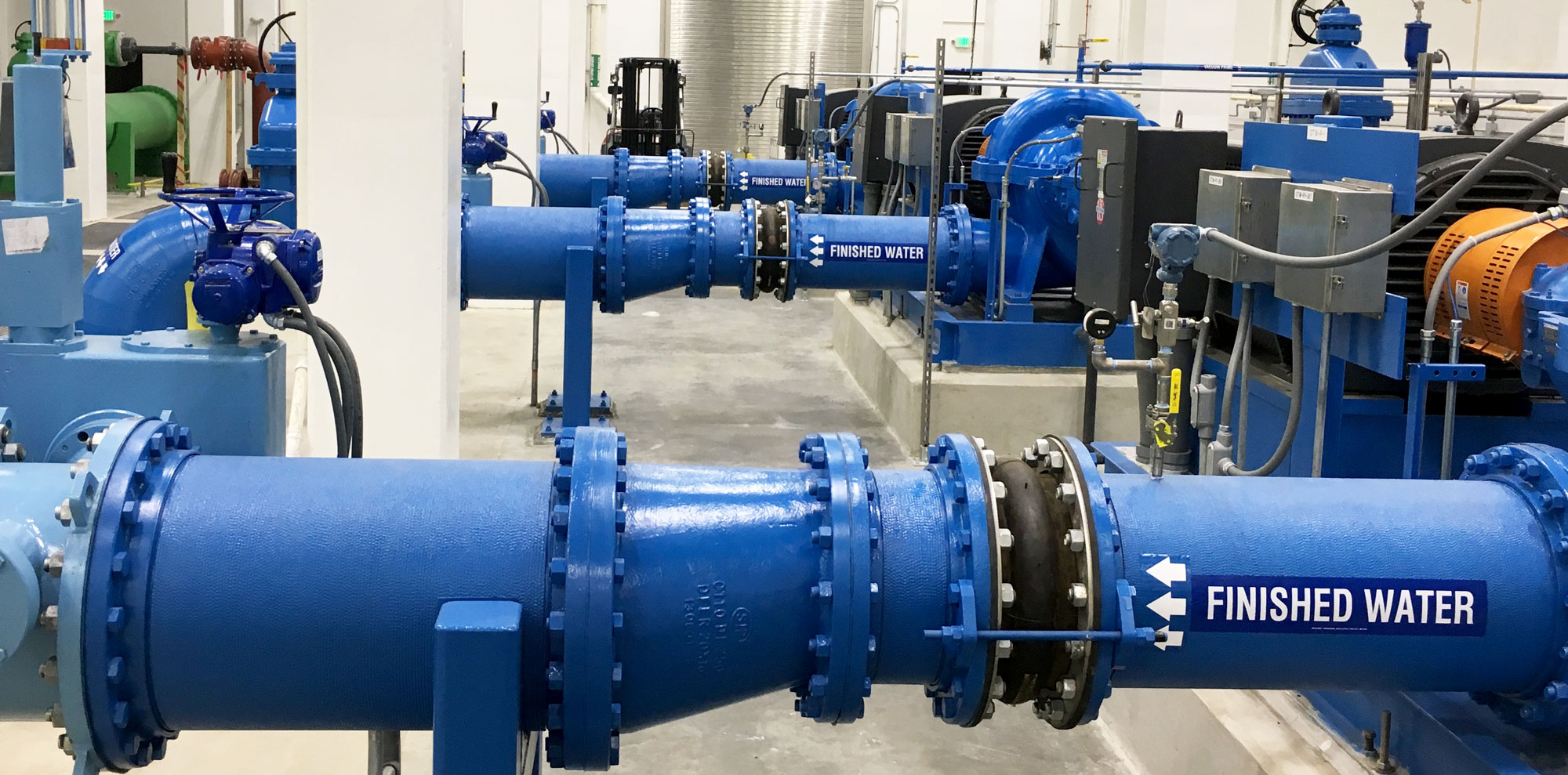 Flint & Genesee's Municipal Water Systems
Commercial and industrial customers are well-served by both the City of Flint's and Genesee County's water services.
City of Flint Water Service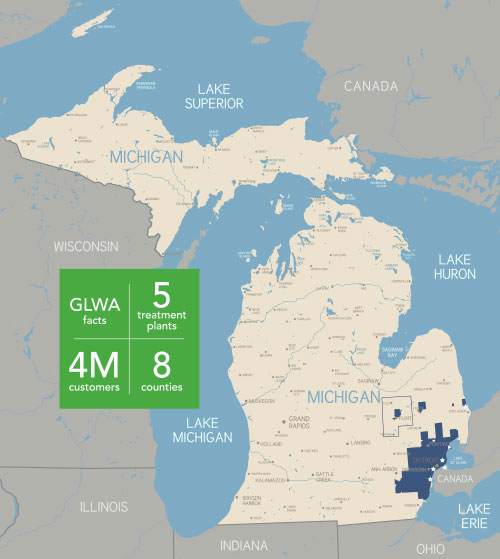 The City of Flint is served by the Great Lakes Water Authority (GLWA), which draws from water from Lake Huron – the second largest of the five Great Lakes, which, combined represents the largest surface of fresh water in the world. GLWA serves eight counties and nearly 4 million customers in southeast Michigan.
The recent challenges of the city's municipal water system are well-documented. However, the GLWA-treated water piped into the City of Flint today for use by residential, commercial and industrial customers undergoes extensive testing to ensure its ongoing quality. The independently conducted tests consistently show lead levels in the City of Flint's water are far below federal maximums and are regularly far lower than that of many of communities in the United States. (The federal action level for lead is 15 ppb; Flint recorded 4 ppb, as of January 2020.)
In addition, the municipal water infrastructure is undergoing extensive renewal. A $100-million program is underway to replace all lead and galvanized steel service lines at 30,000 homes in Flint. This work was completed in November 2020. The multimillion project includes the replacement of water mains, new water meters for every water customer, expanded water reservoirs and construction of a new, state-of-the-art water treatment facility.
Commercial and industrial customers are also well-served by the City of Flint's water infrastructure. This includes longtime businesses, such as General Motors and Genesee Packaging, as well as more recent investors, like Lear Corp., Tenacity Brewing and Phoenix Investors.
Moreover, the undeveloped properties offer potential investors the opportunity to install an entirely new infrastructure for the location.
Genesee County Water Service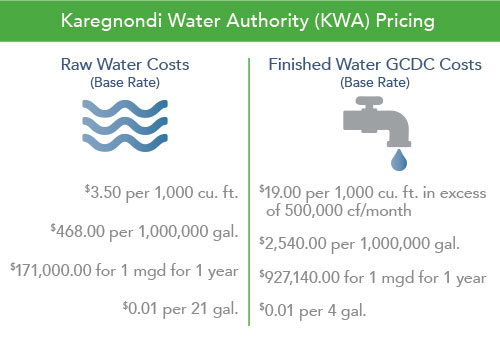 Outside the City of Flint, much of Genesee County is served by the Genesee County Water System (GCWS), operated by the Genesee County Drain Commissioner's Office. The GCWS receives fresh water from Lake Huron by way of the Karegnondi Water System (KWA). The fresh water is then treated at the GCWS's state-of-the-art facility and distributed to municipalities on the water system.
The GCWS can deliver both treated water and raw water, at a reduced rate, to individual parcels for use by commercial and industrial operations. The water system has a capacity of more than 15 MGD in treated water and 30 MGD in raw water.
Manufacturing and other industries use water during the production process for either creating their products or cooling equipment used in creating their products. Raw water also can be used for agricultural processes, construction or cleaning purposes.
However, water scarcity is also a growing concern, with 58 percent of water industry professionals from the 2018 Strategic Directions: Water Report survey naming water supply/scarcity the most significant climate change issue for water utilities.
Moreover, companies recognize that they may not need pristine drinking water for their industrial processes, as detailed in the Water Report, published by Black & Veatch, an engineering, procurement, consulting and construction company:
As an example, the data center industry consumes large quantities of water to cool their servers and other equipment. Reliability is essential, and potable water long has been viewed as the only way to provide it. But alternative cooling methods have emerged, including treated wastewater shown to provide acceptable quality. These initiatives are being replicated across water-intensive industries as companies look closely at newly available options.
The KWA has the capability to extend lines to supply raw water to sites around Genesee County. The system also provides a degree of redundancy for industrial customers within the City of Flint that rely on the city's municipal infrastructure.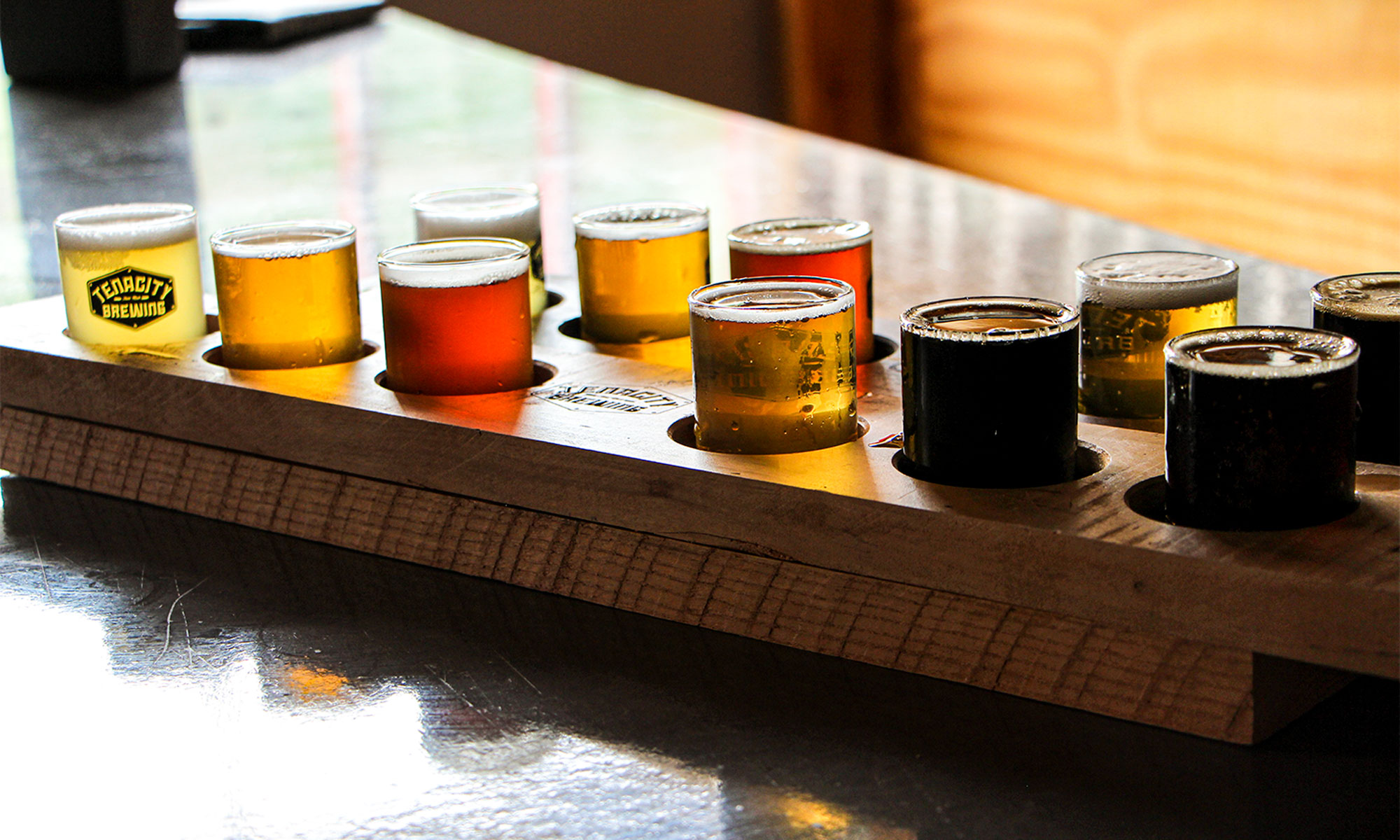 "Beer is our primary product, and it is over 90 percent water. After brewing for over six years in the City of Flint, we are very confident in our source of water. We test and taste it constantly. And it really is one of the best commercial sources of water available in the state of Michigan."
Jason Caya
Partner (co-owner)
Tenacity Brewing