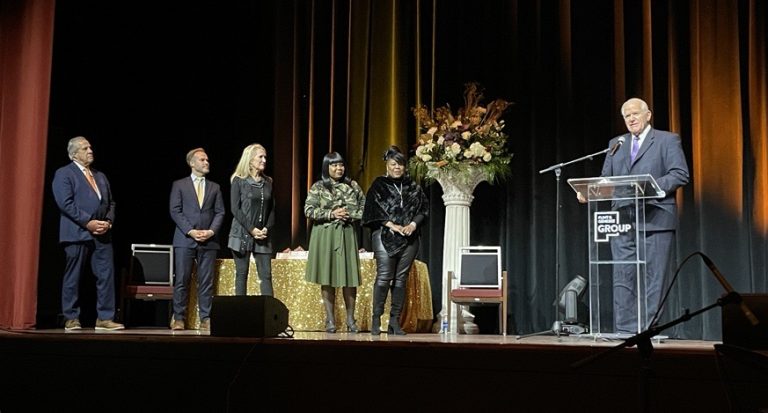 (FLINT, Mich., Nov. 9, 2023) – This evening, over 500 community members joined together to celebrate some of the many organizations and individuals making a positive impact in Genesee County during the Flint & Genesee Group's ninth annual Art of Achievement Awards.
More than 80 organizations and 120 individuals were contenders for 14 awards that were presented at the FIM Capitol Theatre in downtown Flint. Additionally, the Group recognized the recipients of this year's Art Hurand Award, C.S. Mott Award, and Economic Development Project of the Year Award.
"Each of this year's awardees play an important role in making Flint & Genesee a great place to live, work, and visit," said Tim Herman, CEO of the Flint & Genesee Group. "We appreciate their dedication to our community and are honored to recognize the work they do."
The ceremony featured two tracks of awards, including hospitality and business. This year's honorees include:
HOSPITALITY AWARDS
Attraction of the Year – Sloan Museum of Discovery
Certified Tourism Ambassador of the Year – Terry Pickard, CTA
Bryant "BB" Nolden Community Champion Award – Ed Benning
Frontline Ambassador of the Year – Gregg Outen of FIM
Hotel Ambassador of the Year – Diana Phillips of Knob Hill Bed & Breakfast
Hotel of the Year – Hilton Garden Inn Flint Downtown
Restaurant of the Year – Cork on Saginaw
BUSINESS AWARDS
Art Hurand Award – Dick Skaff
Business Impact Award – Mass Transportation Authority (MTA)
C.S. Mott Award – Leanne Panduren
Claire M. White Award – Lennetta Coney
Diversity, Equity & Inclusion Champion Award – Huntington Bank
Economic Development Project of the Year – Ashley Capital (Flint Commerce Center)
Minority-Owned Business Award – Drinks of Essence Bartending School
Nonprofit Impact Award – Center for Higher Educational Achievement
Small Business Award – Walker Electric, Inc.
Young Professional Leader Award – Domonique Clemons
The presenting sponsor of this year's event was Blue Cross Blue Shield of Michigan and Blue Care Network. Additional sponsors included Al Serra Auto Plaza, which sponsored the red carpet; McLaren Flint, the photography; Huntington Bank, the program; Skypoint Ventures, the dessert; and WJRT ABC12, the master of ceremonies. Also, Back to the Bricks, Dort Financial Credit Union, Mott Community College, and Yeo & Yeo served as seat section sponsors.
Individual awards sponsors included Bishop International Airport, Communities First, Inc., Community Foundation of Greater Flint, ELGA Credit Union, Food Bank of Eastern Michigan, Genesee Health Plan, Huntington Bank, JP Morgan Chase & Co, LaFontaine Ford-Lincoln, Mass Transportation Authority (MTA), MLive Media Group, United Way of Genesee County, and University of Michigan-Flint.
About Flint & Genesee Group
Flint & Genesee Group supports the region through its commitment to developing business, talent, and place. The organization works to strengthen the Flint and Genesee County economy, and create a place where people thrive, and businesses invest and grow. Its programs and services are marketed through four divisions – Explore Flint & Genesee, Flint & Genesee Chamber, Flint & Genesee Economic Alliance, and Flint & Genesee Education & Talent. For more information, visit FlintandGenesee.org, and check us out on Facebook and LinkedIn.