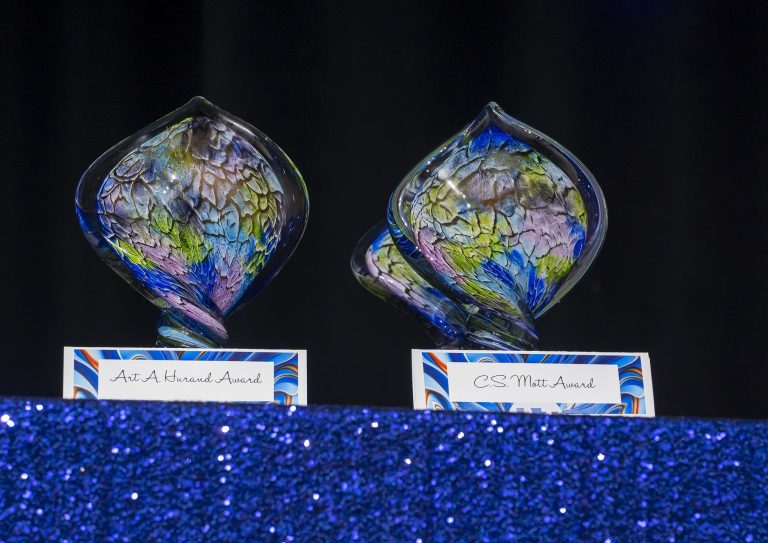 (FLINT, Mich., Nov. 3, 2023) The nominations are in for the Flint & Genesee Group's Art of Achievement Awards. More than 80 businesses and organizations and 120 individuals are contenders for 14 awards that will be presented Thursday, Nov. 9, from 6 to 8:30 p.m., at the FIM Capitol Theatre in downtown Flint.
Now in its ninth year, the annual awards celebration will also include the presentation of three special honors, including the Art Hurand Award, Charles Stewart Mott Award, and Economic Development Project of the Year.
"Art of Achievement shines a spotlight on some of the people and organizations that are making a real difference in Flint & Genesee," said Tim Herman, CEO of the Flint & Genesee Group. "We invite everyone to join us for an evening that celebrates the excellence, dedication, and vibrant spirit of our community."
Red carpet arrival will begin at 6 p.m., followed by the awards program at 7 p.m.
Tickets are on sale now for $10 and may be purchased online by visiting flintandgenesee.org.
The following individuals and companies are nominees in the business category:
Business Impact Award – Recognizes a company with 50 or more employees working to have a positive impact in Flint & Genesee.
Fessler & Bowman
Insight Health Group
LaFontaine Automotive Group
Mass Transportation Authority (MTA)
Claire M. White Award – Honors a woman working for the betterment of Flint & Genesee in community, career, or someone else's life.
Lennetta Coney
Nancy Edwards, CTA
Deborah Hamilton
Claudnyse Holloman
Angela Hood-Beaugard
Adriana Lanice
Michele Leclaire
Jashell Mitchell
Anna Owens-Wolfe
Shearese Stapleton
Mary Stevenson
Diversity, Inclusion & Equity (DEI) Award – Recognizes a business or organization that has demonstrated leadership in their diversity, equity, and inclusion efforts to help make Flint & Genesee a place of opportunity and inclusion for those who live and work in the county, no matter their background or where they reside.
The DM Burr Group
Flint Social Club
Financial Plus Credit Union
Huntington Bank
The Loft
McLaren Flint
Peckham
University of Michigan-Flint
What's Up Downtown
Minority-Owned Business Award – Recognizes a minority-owned business working to have a positive impact in Flint & Genesee.
Breads & Threads Handmade
Comma Bookstore & Social Hub
Drinks of Essence Bartending School
Harris Family Health
Prince Gourmet
Prestige Promotions
Robella Haynie's Catering
Yevettes Gourmet Tacos
Nonprofit Impact Award – Recognizes a charity, church, or nonprofit making great strides to positively impact any facet of the Flint & Genesee community.
Back to the Bricks
Beauty for Ashes
Catholic Charities of Shiawassee & Genesee Counties
Center for Higher Educational Achievement
Communities First, Inc.
Crime Stoppers of Flint & Genesee County
The Disability Network
Fathering Together
Fenton Center of Hope
Grace Emmanuel Baptist Church
Hand of Hope – FLM
Invisible Giants Legacy & Leadership Foundation
Junior League of Flint
Mothers of Joy Institute for Parenting and Family Wellness, Inc
Serenity House Communities
Sloan Museum of Discovery
Whaley Children's Center
Small Business Award – Recognizes a company with fewer than 50 employees working to have a positive impact in Flint & Genesee.
The Agitated Grape
Blackstone's Smokehouse
Brandon's Tire Service
Breads & Threads Handmade
Buff City Soap
Churchill's Food & Spirits
Comma Bookstore & Social Hub
Great Harvest Bread Company
The Loft
Peerless Mattress Co.
Robella Haynie's Catering
SAGEncy
Special Occasions
Storage of America
Tenacity Brewing
Vehicle City Onsite Fleet Services
Walker Electric, Inc.
Young Professional Leader Award – Recognizes a young professional 40 or younger making great strides to benefit their company and/or the community.
Joel Arnold
Domonique Clemons, CTA
Emily Doerr
Ashnee Dunning
Lauren Goslee
Bre'Asia Hamlin
Adriana Lanice
Kathryn Linehan
Morgan Neeley
Brandon Peabody
Jerin Sage, CTA
Brittany Wilson
Emma Ziraldo
The following companies and individuals are nominees in the hospitality category:
Attraction of the Year – Recognizes a venue or attraction that continues to raise the bar, offering top notch entertainment or programming to the community and visitors.
The Ally Challenge presented by McLaren
Back to the Bricks
Buckham Gallery/Buckham Fine Arts Project
Flint Alley Fest
Flint Drop Fest
Flint Firebirds
Flint Horror Collective
Genesee County Fair
The Machine Shop Concert Lounge
Really Cool Comic Con
Sloan Museum of Discovery
CTA of the Year – Recognizes a Flint & Genesee Certified Tourism Ambassador who exemplifies excellence in hospitality and customer service.
Launa Collins, CTA
Elizabeth Fernandes, CTA
Terry Pickard, CTA
Jerin Sage, CTA
Carol Van Buren, CTA
Frontline Ambassador of the Year – Recognizes outstanding customer service in the non-hotel areas of food service, bartender, transportation, business, etc.
Mark Bonto
Melanie Cieslinski
Collene Eller
Sheena Harrison
JackyMetcalfe, CTA
Gregg Outen
Marcus Randolph
Jack Russell
Jerin Sage, CTA
Zach Smithingell
Hotel of the Year – Recognizes a Genesee County hotel for its outstanding service, comfort, and attention to hotel guests, providing an excellent overall experience.
Best Western Plus Flint Airport Inn & Suites
Fairfield Inn & Suites Flint Grand Blanc
Gateway Hotel and Convention Center Best Western Premier Collection
Hampton Inn & Suites Flint/Grand Blanc
Hilton Garden Inn Flint Downtown
Knob Hill Bed & Breakfast
Bryant "BB" Nolden Community Champion Award – Recognizes an individual or organization who improves Flint & Genesee through community collaboration, advocacy, and engagement.
James Avery, CTA
Ed Benning
Katie Curnow
Megan Heyza
Tarnesa Martin
Chad Schlosser
Jerin Sage, CTA
Marsay Wells-Strozier
Restaurant of the Year – Recognizes a Genesee County restaurant for their outstanding service, menu, and overall experience of the customer.
Blackstone's Smokehouse
Blondie's Food & Spirits
Cork on Saginaw
Gina's Italian Restaurant
The Grafted Root Eatery
JT's Country Kitchen
The Laundry
Roma's Pizza
Sam's Italian Restaurant
Sauce Italian American Kitchen
Soggy Bottom Bar
Spectacular Spudz
Sweet Peaces
Tees Plentiful Salads
Zippy Pizza Inc.
Hotel Ambassador of the Year – Recognizes a hospitality worker who provided outstanding service. This may include, but is not limited to front desk, host, hostess, housekeeper, guest services, hotel restaurant, and maintenance.
Best Western Plus Flint Airport Inn & Suites
Jeanette Anderson, CTA
Diana Baricska, CTA
Zachary Blackburn
Shaquita Bobo, CTA
Shawn Bourgeois
Karen Boyd, CTA
Devon Brown
Shuronda Brown, CTA
Selima Burney, CTA
Kinya Eldridge
Crystal Elliott
Rubicelia Garcia
Keniesha Harris, CTA
Matt Hensel, CTA
Andrea Jewell, CTA
Blake Johnson, CTA
Brooklyn Lemmon
Bryania Lemmon
Sam Muraeky
LaQuanta Murphy
Lucia Qazaha, CTA
Dominique Redmond, CTA
Issa Salem
Juanita Whittaker
Comfort Inn & Suites Grand Blanc  
Lazaro Aguila, CTA
Donna Marchbanks, CTA
Karri Whiteman, CTA
Fairfield Inn & Suites Flint Grand Blanc 
Jemima Biddinger
Michael Clinton
Darrell Hagy
Carl Hawkins
Trevon Johnson
Kamara Massey
Marissa McCollum
Elizabeth Morris, CTA
Genell Reeves
Olivia Rodgers
Toya Smith, CTA
Karla Turner, CTA
Emily Wright
Gateway Hotel and Convention Center Best Western Premier Collection
Gregory Ahejew, CTA
Todd Alton
Pete Clifton
Michelle Dunlap
Tammy Ranaldi
Theresa Sharpe
Baha Shihabi
Hampton Inn & Suites Flint/Grand Blanc
Yaeko Brodie
Melissa Clement
Lettie Lane
Melissa Mancour
Hilton Garden Inn Flint Downtown
Ellen Bailey
Sheryl Champine, CTA
Dwayne Corder
Briana Crane-Jackson
John Watson "JW" Creasey
Angie Esquivel
Daquavia Flowers
Kayla Harper
Kathryn Hinman
Christopher Inman
Ethan Irish
Melea Mitchell
Alex Price
Tammy Ranaldi
Brandi Starr
Dan Wright
James Young
Taryn Young
Home2 Suites by Hilton Grand Blanc Flint
Ashley Bradley, CTA
Andrea Cordero
Abbey Forrester
Emily Henry
Rena Klanseck
Frank Mata
Dana Neely, CTA
Hyatt Place Flint/Grand Blanc
Brittany McEachern
Kelly Rose
Omar Wooten
Christiana Wright
Knob Hill Bed & Breakfast