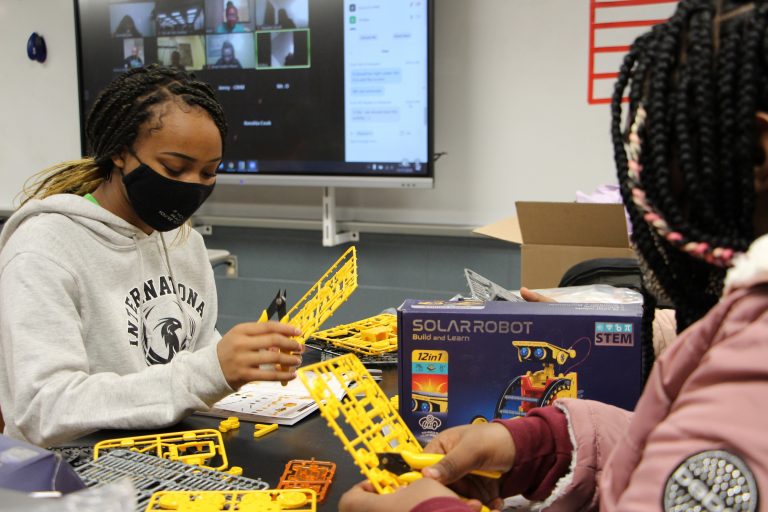 City proclamation designates Oct. 28 as Lights On Afterschool Day in Flint
(FLINT, Mich. – October 20, 2021) Most days of the year, YouthQuest is open only to students in grades K-12 at Flint Community Schools, Flint Cultural Center Academy and International Academy of Flint. But for a few days this month, the research-based afterschool enrichment program will open its doors to the public for a series of events held Oct. 21-28.
The festivities are all part of Lights On Afterschool, a nationwide rally organized by the Afterschool Alliance, a nonprofit public awareness and advocacy organization, as a way to underscore the need to invest in afterschool programs. According to the organization's America After 3PM household survey, for every child in an afterschool program today, three more are waiting to get in.
"YouthQuest provides a safe and engaging place for students to go in the hours following the school day," said Nefertari Jones, director of Afterschool Education at Flint & Genesee Education & Talent, a division of Flint & Genesee Group. "By inviting the community to attend one or two of these community events, we hope to showcase just how essential our program is to Flint families."
While YouthQuest's celebration will take place over the course of the next two weeks, Lights On is officially recognized this year on Oct. 28 – which is why Flint Mayor Sheldon Neeley issued a proclamation designating the day as Lights On Afterschool Day.
"Lights On Afterschool provides much needed community outreach and education for our children and families," Neeley said. "Afterschool programs help to support social, emotional, cognitive and academic development, and provide safe spaces for our youth to flourish and engage with their peers."
Through YouthQuest, students participate in engaging activities focused academic support; enrichment; physical fitness and healthy behaviors; nutrition education; youth development and leadership; and family and community engagement. To highlight its impact, the program – which is made possible with support from the Charles Stewart Mott Foundation and 21st Century Community Learning Centers – will be partnering with Flint Community Education Initiative and the school districts to host seven free events open to the community. They include:
Thursday, Oct. 21, 2021
Lights On Monster Bash at Pierce Elementary (1101 W. Vernon Dr., Flint)
From 4-6 p.m., attendees will make Halloween-themed arts and crafts, play games and write letters to representatives about the importance of afterschool. Don't forget to wear a costume!
Lights On Trunk or Treat & Vaccination Clinic at Holmes STEM Academy (6602 Oxley Dr., Flint)
From 3-6 p.m., join us for pizza and trunk or treating! Additionally, COVID-19 vaccinations will be available to anyone 12 or older; for anyone under 18, a legal guardian must be present to receive the vaccination. Vaccination appointments must be made at least 24 hours in advance; call (810) 237-4588 to schedule.
Lights on Harvest Fest at Brownell STEM Academy (6302 Oxley Dr., Flint)
From 5-6:30 p.m., students and community members will enjoy candy, snacks, reading, photo booths, raffles and more.
Friday, Oct. 22, 2021
Halloween Lights On Celebration at Potter Elementary (2500 N. Averill Ave, Flint)
From 6-7:30 p.m., the site will offer candy, games, a spooky cake walk, costume contest, music and a food giveaway. 
Wednesday, Oct. 27, 2021
Harvest Night at International Academy of Flint (2820 Saginaw St., Flint)
From 4:30-6:30 p.m., community members can stop by the school's parking lot, located off Oakley Street. There, you can participate in a variety of activity stations. Costumes are encouraged.
Thursday, Oct. 28, 2021
Lights On: Haunted Drive Thru at Southwestern Classical Academy (1420 W. 12th St., Flint)
From 5-8 p.m., families can stay safely in their vehicles as they drive through different stations to collect goodies and treats.
Lights On: Fall Harvest Party at Durant-Tuuri-Mott Elementary (1518 University Ave, Flint)
From 5-7 p.m., this site will offer a variety of games, candy/book giveaways, storytelling, music and resources from community partners.
If you would like to attend one of YouthQuest's Lights On Afterschool events, please RSVP to  or (810) 600-1422.
About Flint & Genesee Education & Talent 
Flint & Genesee Education & Talent, a division of the Flint & Genesee Group, provides high-quality talent development through a continuum of programs for youth and adults including YouthQuest; TeenQuest; and Summer Youth Initiative; and, is funded in part by Charles Stewart Mott Foundation and Michigan 21st Century Community Learning Centers. For more information, visit flintandgenesee.org, and check us out on Facebook.