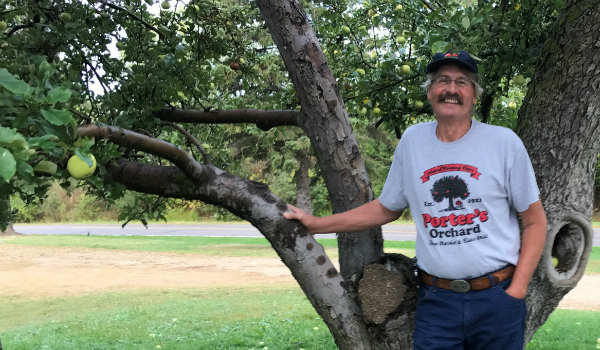 When Ray Porter went into partnership with his father in 1979, he already had more than 15 years of orchard-related experience under his belt – an impressive feat for someone who was just 22 at the time.
"I remember being about five years old and sweeping the floor," says Porter, the third-generation owner of Porter's Orchard in Atlas Township. "I got paid a nickel."
By 16, Porter was operating the cider press. And even though his title is business owner today, he still considers himself an apple farmer at his core.
The orchard is Porter's livelihood and his home. In fact, his house is located just 300 feet away from the store, which sells fresh cider, donuts and caramel apples.
And of the hundreds of apple trees on the property, there's one that stands out in particular to Porter. He points to the Tallman Sweet that stands guard near the business' parking lot, and explains that it's the last of the very first trees planted by his grandfather in 1921.
"It's still producing fruit," he says with a smile. "It's still thriving."
What does a day in the life of an orchardist look like?                                        
What's your favorite orchard-related memory?
When my father told me that I could make a good cider. That was my proudest moment.
Are you still making the cider today?
Yes, if you don't like the cider, you can come and tell me, because I'm the guy that made it. (Laughs) I'm still the one who blends all the apples. That's something I'll never give up.
Who or what inspires you?
There are a couple of people that have bigger orchards that I really admire. One of them is Spicer Orchards in Fenton and the other is Westview Orchards in Romeo. They just have what I consider real top-class operations, and they inspire me to do a little bit better.
There isn't competition between the orchards?
No, not really. I've never experienced anything but openness and helpfulness. A lot of businesses aren't like that. In the automotive industry, they don't share production secrets or things like that. But when we have conferences, everyone shares their experiences and gives each other advice. That really impressed me when I was growing up and made me feel like I wanted to be part of this industry.
What challenges have you encountered?
Apple sales have dropped over the years. People used to go to orchard when they wanted apples. Now, they go to the grocery store. Because of that, we've had to concentrate on having hayrides, U-pick and a petting zoo – things that create an experience. I would rather be out in the orchard taking care of the apple trees, but I've had to adapt and grow in that direction to keep the doors open.
What else are you doing to grow your business?
We're moving into hard cider now with Flint City Hard Cider Co. That's a new business venture for us. I'm working with our general manager – Charlie Burt – who's heading that up for me. We have a building that we're remodeling (in downtown Flint), and we're trying to do that on a limited budget.
I've been doing a lot of the renovations myself and am just taking it one day at a time. We're hoping to open by winter or early spring at the latest.
To learn more about Porter's Orchard, at 12060 Hegel Road in Goodrich, visit www.portersorchard.com, follow them on Facebook or call 810-636-7156.