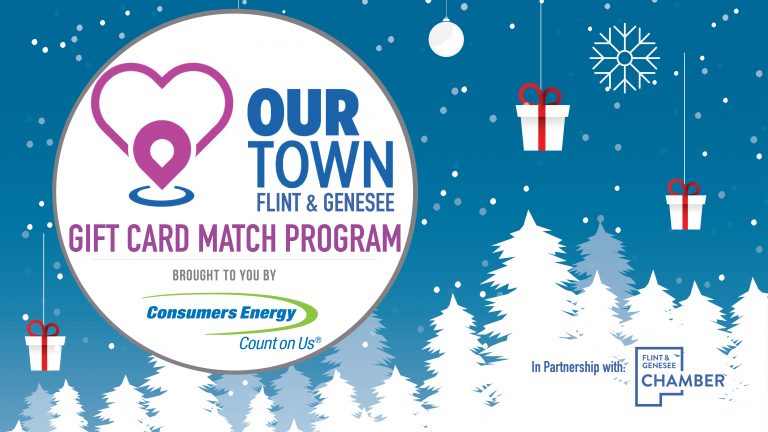 Consumers Energy and the Flint & Genesee Chamber have teamed up to help your dollars go further at local businesses!
For every gift card purchased at these select businesses,  you will receive a second gift card of equal value for FREE (up to $50)*!
*The gift cards must be purchased directly from participating business to receive match. Limit one card per customer, per business. Matching gift cards will be available on a first-come, first-served basis until funds run out.  (Individual business gift card rules and limitations may apply.)
Thank you to all businesses who participated and to all consumers who purchased gift cards! All businesses are now sold out.
501 Bar and Grill
B-Dogs
Blackstones Smokehouse
Blondie's Food & Spirits, INC
Churchill's Food & Spirits
The Coffee Beanery, Ltd. (Miller Road location)
Cork On Saginaw
Fenton Winery & Brewery
Fireside Coffee Co.
Flint Crepe Company
Flint Farmers' Market
Great Harvest Bread Company
Hoffman's Deco Deli & Cafe
Italia Gardens, Inc.
LaVilla Family Dining & Pizzeria
Little Caesars Pizza (MAC Foods Group) (Genesee County locations only)
Luigi's & El Toro Sports Bar
Pesto's
Redwood Steakhouse
Sagano Japanese Bistro & Steak House (Fenton and Flint locations only)
Sauce Italian American Kitchen
Semi-Sweets LLC 
Shermans Lounge
Soriano's Mexican Kitchen 
Starlite Diner, Coney Island and Catering
Steady Eddy's at the Market
Sweets by Suzanne Marie
Tenacity Brewing
'Our Town' Gift Card Match Program made possible through the generous support of: