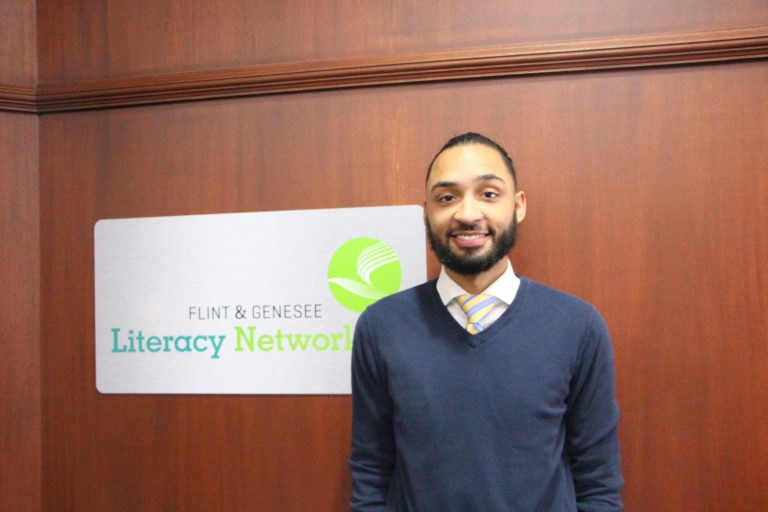 When Swartz Creek High School Alum Jeremiah White graduated from Fisk University in Nashville, he had a tough decision to make: Stay in Nashville or return to Flint?
"There was a huge need in my community," says White. "When I left for college, I intended on leaving to gain the knowledge I could use to help my community."
When he returned, he hit the ground running. Using connections he made through Summer Youth Initiative, White started working for Mott Community College Workforce Development as a program assistant.
"Through my position as program assistant for Workforce Development, I was able to connect with leadership at the Flint & Genesee Literacy Network," says White. "I started working as an impact coordinator for the organization and was eventually able to expand the role."
Now, White works on loan from the college as the collective impact coordinator for the Flint & Genesee Literacy Network – a position that he was able to help develop himself.
What does a typical day look like for you?
I like to believe there is no such thing as a typical day. A lot of my work involves cross-collaboration of partners and stakeholders. Every bit of my work involves data-driven processes. I'm often searching for data points and narratives supporting the development of metrics.
What are your plans for the future?
I have always had it in my mind to continue my education. I am looking at a graduate program through the University of Michigan-Flint. I also want to continue my work and professional development in Flint.
What do you like best about your job?
My connection to national and global initiatives. I have traveled to Texas, New York, Chicago and Cambridge to name a few. With the exposure, I can act locally but think globally. I am also able to bring back a valuable skillset and share the challenges that our community faces.
How did the lessons learned in TeenQuest and Summer Youth Initiative help you on the path to your current position?
Thinking back, it laid a solid foundation for me professionally. It built a foundation that many minorities can't afford. There is etiquette now that comes naturally to me. I feel privileged that I can be a role model for young professionals that look like me, from my community, and that came from TeenQuest.
What advice can you offer current TeenQuest students?
Keep going. It will all be worth it. Before I participated in TeenQuest, I would refer to myself as a solo drummer. What I understand now is that you have to be part of a band. No single person can do it all by themselves.
What has been your proudest moment since TeenQuest?
I have a few. They include graduating from high school, being accepted into a top-ranked private institution, being able to attend Harvard for a week in the education redesign lab and the Flint & Genesee Literacy Network being recognized three years in a row as a pacesetter for early literacy work.
TeenQuest and Summer Youth Initiative are made possible through the generous support of the Charles Stewart Mott Foundation.