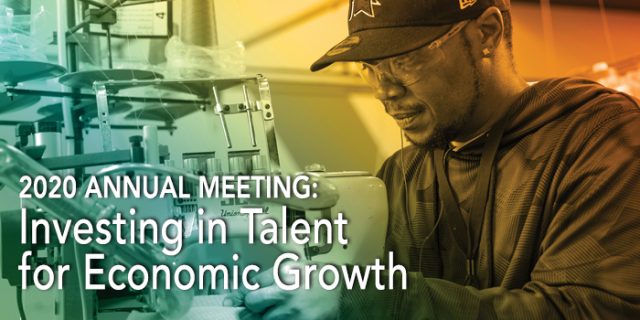 The Flint & Genesee Chamber of Commerce today reported on a range of private and community investments in 2019 to help create a brighter future for Flint and Genesee County. The Chamber's annual meeting, held before a packed ballroom at the Holiday Inn Flint-Grand Blanc Area, also included an update on the progress achieved in year two of the organization's three-year strategic plan.
This year's gathering – themed 'Investing in Talent for Economic Growth'  – focused on the importance of attracting top talent and developing a skilled workforce to achieve economic success.
In short, "talent drives economic growth," said Chamber CEO Tim Herman.
Domino's Pizza Chairman David A. Brandon, the keynote speaker, further elaborated on the critical link between talent and business success from his perspective as a chairman and former chief executive officer for some of the country's largest corporations, including Valassis, Inc., an international marketing services and sales promotion company; Toys 'R' Us  and Domino's Pizza.
The 2019 Annual Report details how the Chamber collaborated with members, partners and investors to strengthen and broaden the region's talent pipeline.
"Based on discussions with local employers and others across the state, there are two primary contributors to the talent problem," said Herman, to an audience of more than 400. "One stems from the skills gap, where many people lack the skills they need to compete for jobs of today and beyond. The second one is the people gap, where many businesses can't find workers they need, when and where they need them.
"Addressing both of these gaps is vital to our region's competitiveness."
In addition to talent initiatives, the Chamber worked with investors and partners to build a strong business climate to help members prosper individually and collectively. Among those efforts are:
The Moving Flint Forward Small Business Grants program, an initiative funded by General Motors and administered by the Chamber, awarded $10,000 each to 15 small businesses in Flint. The program supports revitalization efforts across the city's neighborhoods by strengthening local businesses that serve them.
Forward Together – a partnership between the City of Flint, Genesee County and the Chamber – finished 2019 with a draft economic vision statement and action plan that will serve as a roadmap toward a more prosperous future for Genesee County.
The Flint & Genesee Convention and Visitors Bureau's efforts to improve the region's perception, using a combination of sales, marketing and public relations efforts, booked meetings and events that resulted in nearly 9,500 overnight stays.
The Flint Promise, a scholarship program for students who live in Flint and graduate from a high school or G.E.D. program in Flint. The program has expanded with both the University of Michigan-Flint and Kettering University now accepting students, who meet the schools' admissions criteria, directly from high school. It provides increased access to and success in higher education for Flint's young people and represents a continuous investment in the city's future.
Hosting roundtables and panel discussions on timely business issues and joining with chamber colleagues around the state to advocate on behalf of business and community interests in Lansing.
Following are 2019 accomplishments directly related to the Chamber's business advocacy, economic development, tourism and education efforts, and other programs and services:
Business
Supported more than $26 million in private investment
7 investment projects helped to create 368 new jobs
1,612 PTAC contacts awarded, valued at nearly $76 million
Talent
378 teens graduated from TeenQuest
Hired 418 teens through the Summer Youth Initiative (SYI) Job Fair; with 21 nonprofit employers
186 Flint Promise students, benefiting from 1,833 Flint Promise coaching hours
Place
Contracted 9,500 hotel-room nights in Genesee County

59 percent – sports travel; 20.6 percent – corporations, associations, government and education; 20.4 percent – social, military, religious and fraternal

312 participants experienced local attractions through the redesigned "Be A Tourist in Your Home Town" series
531 Certified Tourism Ambassadors trained in Genesee County
"In year two of our strategic plan, we had some wins, but we are not resting on our successes," Herman said. "We have a lot of work to do and we're up for the challenge!"
Click here for a full copy of the Chamber's Annual Report.