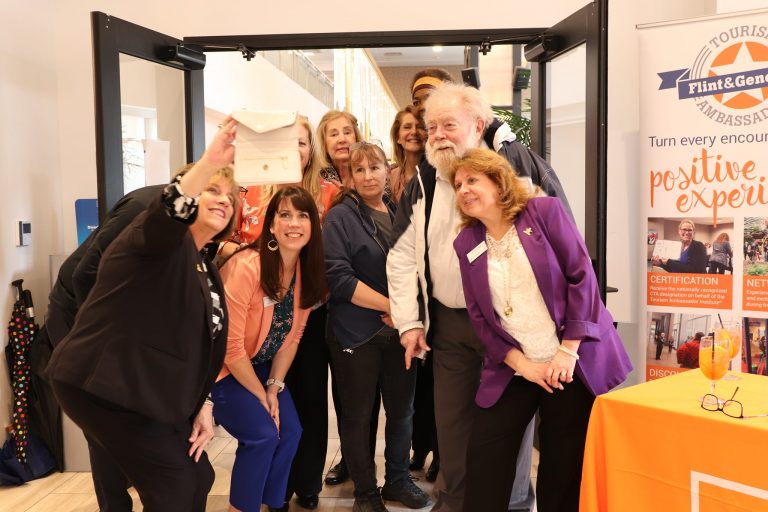 (Flint, Mich., Mar. 8, 2023) Who founded Flint, Michigan? How many acres of land are part of the Genesee County Parks system? What cities border the southernmost part of Genesee County? These questions and many more are answered in the Explore Flint & Genesee Certified Tourism Ambassador (CTA) Program. 
"The CTA program is perfect for individuals who want to become experts in the area," says Amari Steward, Executive Director of Explore Flint & Genesee. "In addition to a deep dive of area facts, the program also teaches participants how to give exemplary customer service, providing positive experiences to those they might encounter coming into Flint & Genesee." 
The knowledge and know-how offered by the CTA program helps create a more inclusive and welcoming environment in Flint and Genesee County. It is a great program for employees in the service industry including restaurant and hotel workers. It is also great for anyone who loves Flint and Genesee County and is looking to know more about its rich history and share in community pride.  
The program consists of four modules: 
The Power of Tourism

 

Discovering Flint & Genesee County

 

Knowing, Finding & Using Resouces

 

Exceeding Customer Expectations

 
Beyond the knowledge gained from the class, participants who complete the CTA program receive the CTA pin, referred to as a symbol of quality. They also gain industry-recognized professional credentials (e.g., John Smith, CTA) and access to the wider CTA Network which spans the country.  
"As a CTA, I have the knowledge to promote Flint and Genesee County through recommendations of area attractions, events, restaurants, history, and local business," says Jeanette Anderson, Explore Flint & Genesee certified tourism ambassador and director of sales for Best Western Flint Airport Inn & Suites. "There are so many wonderful aspects to Flint. I am proud to be able to spread the knowledge to increase tourism and to create a memorable positive experience in our community." 
In 2023, CTA classes will be held: 
Wednesday, April 26, 9 a.m. – 2 p.m.

(Updated date)

Thursday, June 22, 10 a.m. – 3 p.m.

 

Friday, September 22, 10 a.m. – 3 p.m.

 

Wednesday, December 6, 9 a.m. – 1 p.m.

 
To register for a CTA course, visit https://CTANetwork.com. For more information on the program, visit https://www.exploreflintandgenesee.org/about-us/cta/.