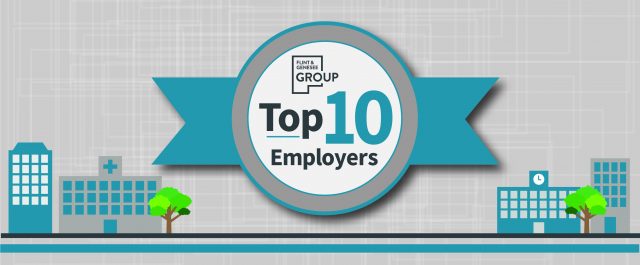 The Flint & Genesee Group's Top 10 Employers program recognizes employers in Flint & Genesee that demonstrate a commitment to outstanding work culture. They excel in areas including — but not limited to — professional development, work-life balance, and employee recognition. They are beacons that draw high-quality talent to Flint & Genesee and offer best practices for competing and neighboring employers to follow.
Honorees will be publicly recognized in the September-October edition of AND, the region's bimonthly business magazine. News will also be shared in the Group's social media channels and email newsletters, and with the local media.
Eligibility
Applicants may be a public, private, nonprofit, or a government workplace. To be eligible, they must have at least 10 employees working in Genesee County. They must also be headquartered in Genesee County or have a significant presence in the region.
Applications for Flint & Genesee's Top 10 Employers are due via online submission to the Flint & Genesee Group by 5 p.m., Tuesday, June 6, 2023.
[PLEASE NOTE: Multiple applications on behalf of a workplace are not necessary. Selections will be based on the quality of the nomination, not the quantity of forms received. Nor will a workplace be selected on the basis of a popular vote tally.]