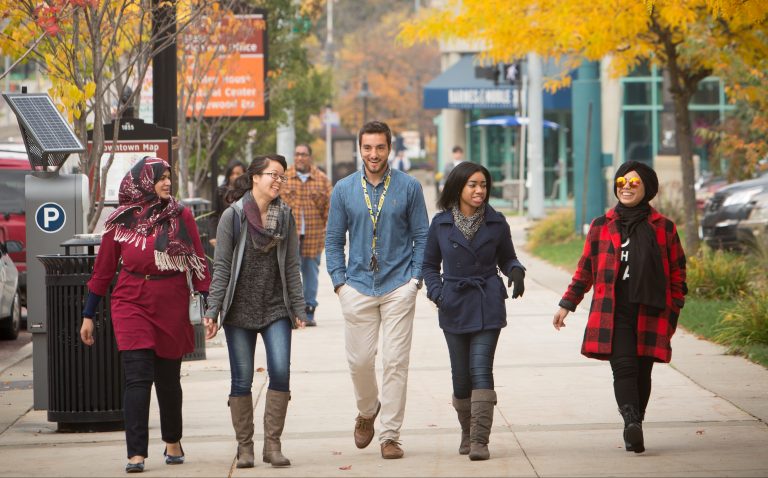 Flint & Genesee is home to four top colleges and universities, eight satellite campuses and 30,000 students. Colleges are continuing to expand throughout the area with Mott Community College Culinary Arts Teaching Facility moving downtown Flint and Kettering University's GM Mobility Research Center taking shape along the Flint River.
With an ever-growing student base in the area comes the question: Where can students go in Flint & Genesee to shop, play and eat? The answer is plenty of places. Here are some of those places students can explore that are budget friendly.
Play:
The cultural center has plenty of offerings that students may have interest an in. The Flint Institute of Arts holds the second largest collection of fine art in the state of Michigan and, through their College Town program, offers free membership for college students, as well as, discounts at the FIA Museum Shop and the Palette Café.
Sloan Museum, Flint's premiere destination for regional history and science education, and Longway Planetarium, Michigan's largest and most advanced planetarium, offer a discounted membership to area college students. For $20, students get one-year free admission to Sloan Museum, Buick Automotive Gallery and Longway Planetarium, 10 percent discount in SloanLongway gift shops, and discounts on classes, special events and more.
Once a month, the Whiting hosts Whiting After Dark. For just a $5 cover, students can attend karaoke nights, drag shows, trivia nights and more. Doors open at 8 p.m. with a happy hour from 8 p.m. – 9 p.m. and a free buffet provided by Blackstone's Grill & Market Tap.
Outside of the cultural center, the Flint Local 432 is one of the longest-running all-ages venues in the country. The venue hosts a variety of musicians, theatre, film, dance, spoken word and more. And most performances cost as little as $5 to attend.
Second Friday Art Walk hosted by the Greater Flint Arts Council includes over 20 businesses and cultural organization downtown Flint. Every second Friday of the month from 6 p.m. – 9 p.m. various locations on Saginaw Street display local art and host special events. This event is free to the public.
Eat and Drink:
For students who are tired of the dining hall, there are plenty of options outside of campus. Churchill's Food & Spirits offers a discounted menu for College students including burgers, tacos, pizza and a fudge brownie sundae for dessert. The Flint Crepe Company offers a 10 percent discounts to students on all their specialty crepes and drinks.
At lunchtime, students can enjoy various discounts at many of the restaurants located at the Flint Farmers' Market such as Steady Eddy's Café and Beirut Restaurant. Other great downtown restaurants include Blackstone's Grill, Soggy Bottom Bar, the Torch, 501 Bar & Grill and Table & Tap.
Café Rhema offers everything from coffee and tea to salads and sandwiches along with a 10 percent discount to college students. Other local shops offering caffeinated beverages include Foster Coffee Company and Good Beans Café.
Shop:
Looking for retail therapy? There are plenty of places to shop in Flint. For streetwear lovers, GoodBoy Clothing offers shirts, hoodies and hats made right here in Flint. Vintage items can be found at the Peace Barn. Unique items, women's clothing, and jewelry is the specialty at SHIFT located next to the Capitol Theatre. For Flint representation, Flint City T-Shirts offers various designs that show pride in the city. More specified shops in the area include the Brush Alley Stakeshop and Sutorial Boots and Shoes.
For groceries, the Grainery sells organic food, natural cleaning supplies and natural beauty products. The Local Grocer provides fresh, local and healthy items, as well as, prepared food to-go.
There are many places for college students to visit in Flint, along with activities and events provided right on their campus. Stay up to date on events happening in Flint & Genesee at www.flintandgenesee.org/events.
For more places to go and things to do follow Explore Flint on Facebook, Instagram or Twitter.