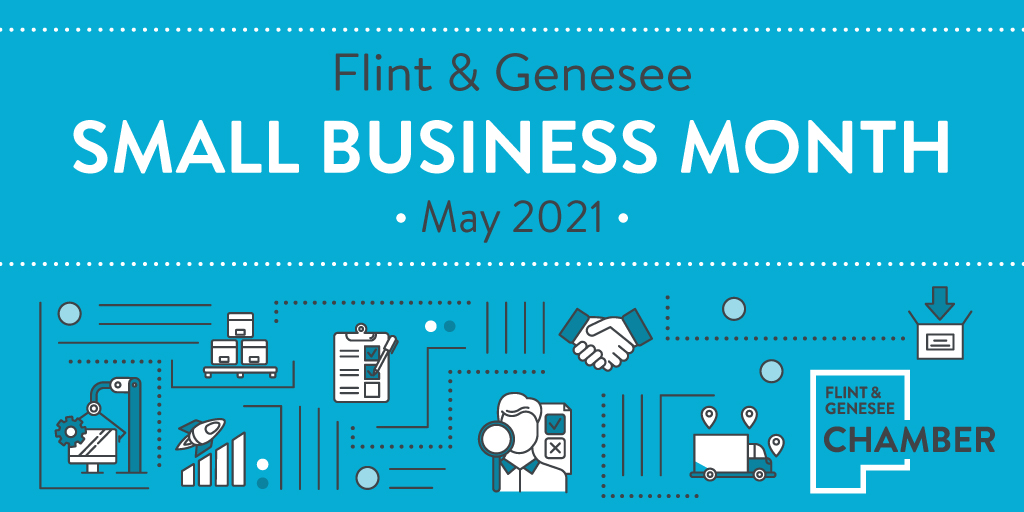 May 2021
Flint & Genesee Small Business Month
To show our love and support of the local small businesses and entrepreneurs in Flint & Genesee, Flint & Genesee Chamber, in conjunction with the Flint & Genesee Economic Alliance and Explore Flint & Genesee, is celebrating local businesses throughout the entire month of May.
Upcoming Small Business Events
Join the PTAC office for rebroadcast of this important Govology webinar on understanding government contracting types.

Please join us for a new, open house-style morning networking event. Come for coffee, conversation, and make some new connections!

Looking for ways to encourage employees to vaccinate against COVID? Join us for this Flint & Genesee Chamber webinar hosted in partnership with Blue Cross Blue Shield of Michigan.
Meet Flint & Genesee's Small Business Owners
In recognition of the entrepreneurs and business owners driving our economy forward, we present FACES, a monthly Q&A series featuring our members and clients. If you've ever wondered who it is you're doing business with – or could be doing business with – in Flint & Genesee, here's your chance to find out.
#supportFlintGenesee Graphics and Suggested Posts
Download social media graphics and suggested posts below and don't forget to use #supportFlintGenesee! For questions or additional information, please contact Savannah Turbett at .
How Do You Support Small Businesses?
Share Your Love for Small Businesses and Entrepreneurs!
Join us in celebrating our small business community. Get involved by using the hashtag #SupportFlintGenesee to have your content posted to this page.
---