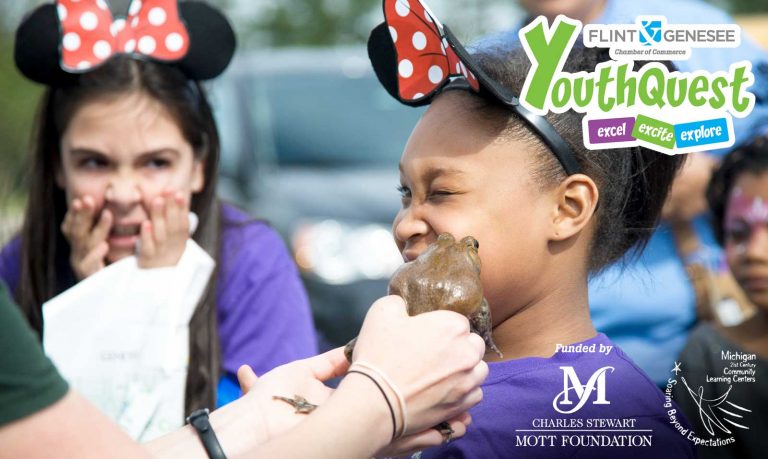 Offer Your Expertise
Thank you for your interest in providing vendor services to the YouthQuest program. We value our partnerships with people and organizations in the community as we work together to impact our youth for a better tomorrow. Below is an overview of the YouthQuest program and next steps for vendors who are interested in partnering with us.
Instructions
*Note: Electronic application is preferred. Please do a "save as" for the Word document and include your organization name in the document title.
Mission and Objectives
YouthQuest is a no-cost, innovative after school enrichment program for youth in Genesee County, Michigan, managed by Flint & Genesee Education & Talent, a division of the Flint & Genesee Group. YouthQuest is made possible through the generous support of the Charles Stewart Mott Foundation, along with additional funders and donations.
The mission of YouthQuest is to provide youth with engaging after school experiences to excel, excite, and explore! The program is offered at Flint Community Schools and International Academy of Flint. It operates three (3) hours per day, Monday – Thursday, at varying times between 2:00-7:00 pm (depending on the site). Our core program objectives:
Traditional academic support (experiences focused on literacy, math, science, or social studies)
Exploratory academic support (experiences that engage two or more of the traditional academic subjects)
Enrichment through Visual and Performing Arts
Personal / individual physical fitness / sports / recreation
Team physical fitness / sports / recreation
Nutrition education
Youth development: life skills, career awareness, technology, character education, or leadership
Family involvement
Service projects
Next Steps for Vendors
YouthQuest is always seeking qualified vendors (persons or organizations that provide a paid service at any YouthQuest site) who offer safe, engaging and exciting learning experiences and materials that align with our program mission and objectives listed above. To be considered as a qualified vendor for YouthQuest, please follow the instructions below:
Complete Vendor Application – Complete the application below or download the form and follow the steps above.
Required Background Checks

ALL vendors and their staff working with YouthQuest are required to complete a background check through the Michigan ICHAT and a Central Registry Clearance at the DHS office. YouthQuest staff will process the ICHAT information (You will be asked to submit the full names and birth dates for yourself and all staff that would be onsite with program participants) and vendors and staff will be responsible for securing Central Registry Clearance prior to starting with the program. There is no fee associated with either check.
It is the responsibility of the vendor to report to YouthQuest any change in status of one of its representative and/or withdraw said individual(s) from providing services through their corporation or organization to YouthQuest.

Required Paperwork – All vendors will be required to complete a contract, turn in an W-9 Form, and submit regular invoices for payment once approved as a qualified YouthQuest Vendor.
YouthQuest is a no-cost afterschool initiative operated by Flint & Genesee Education & Talent through the generous support of the Charles Stewart Mott Foundation and others.