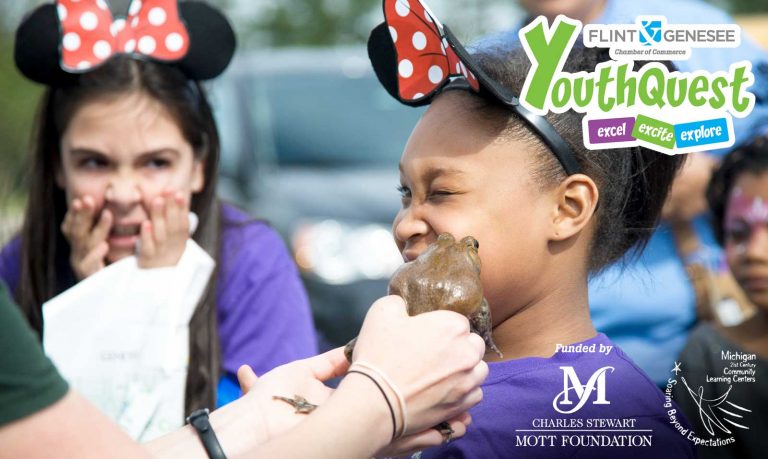 Offer Your Expertise
Thank you for your interest in providing services to YouthQuest!  We value our partnerships with organizations in the community as we work together to impact our youth for a better tomorrow.
Instructions
Complete the form below – or –
Click here to download the application (Word | PDF)

Please complete the downloaded application and submit by one of the following options:
– Email: awatts@flintandgenesee.org
– Fax: 810.600.1463
– Mail: YouthQuest, Attention:  Amy Watts, 519 S. Saginaw Street, Suite 200, Flint, MI 48502
*Note: Electronic application with the Word document is preferred. Please do a "save as" including your organization name in the document title.
Mission and Objectives
YouthQuest is a free, innovative, after school enrichment program for youth, grades K-12, in Genesee County, Michigan, managed by the Flint & Genesee Chamber of Commerce (FGCC).  Currently, we are located in several schools in Carman-Ainsworth, Flint, and International Academy.  YouthQuest is made possible through the generous support of the Charles Stewart Mott Foundation, along with additional funders and donations.
The mission of YouthQuest is to provide youth with engaging after school experiences to excel, excite, and explore! The program typically operates three hours per day, Monday – Thursday, typically between 2:30-7 PM.
We are looking for vendors (persons or organizations that provide a paid service at any YouthQuest site) who will help us to accomplish this mission by aligning safe, engaging and exciting learning experiences with our core program objectives:
Academic Support
Enrichment Activities
Physical Fitness and Healthy Behaviors
Nutrition and Nutrition Education
Youth Development/Leadership
Family & Community Engagement
Required Documentation: Approved as a Prospective Vendor
ALL vendors and their staff working with children in YouthQuest are required to do one of the following:
Non-Profit Organizations
Provide a copy of the background check(s) or provide a written statement on the organization's letterhead confirming that the employee(s) have fulfilled this requirement.
Independent Contractors
Obtain Central Registry Clearance at the Department of Human Services (DHS) office.  You will need a picture identification (there is no charge) AND
Provide the YouthQuest office with a date of birth for all staff that would work as part of the vendor program so an i-Chat background check may be secured by our office
Previously approved vendors must annually provide a letter stating that the status of all representatives is unchanged from the original background check. (New staff must still complete the background check.) It will be the responsibility of the vendor to report to YouthQuest any change in status of one of its representative and/or withdraw said individual(s) from providing services through their corporation or organization to YouthQuest.
All vendors must provide an EIN number OR all employees who work with the YouthQuest program will be asked to submit a copy of their driver's license (front and back) and a social security number.  These will be kept in secure files at the FGCC.
Additionally, all corporate and non-profit vendors who provide services at a YouthQuest site must supply a copy of their certificate of liability coverage showing the Genesee Area Focus Fund (the support organization of the GRCC's YouthQuest program) as an "additional insured party" at $500,000 or more.
YouthQuest is a free after school initiative operated by the Flint & Genesee Chamber of Commerce through the generous support of the Charles Stewart Mott Foundation and others.