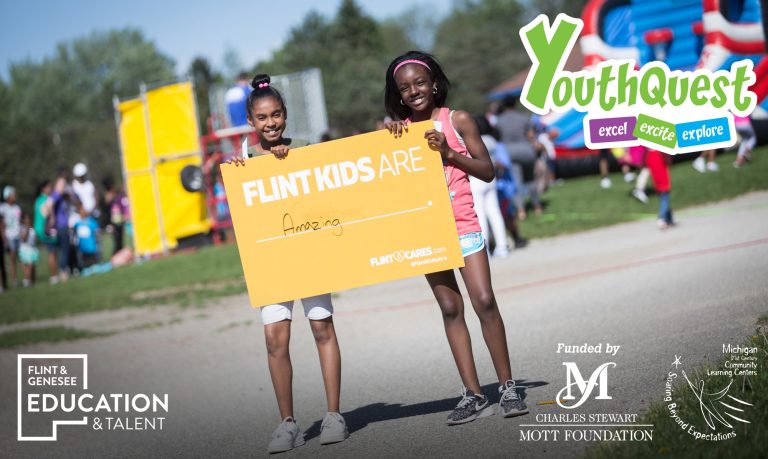 2022-23 School Year Program
YouthQuest at Flint Community Schools begins August 15, 2022*.
Applications are currently closed. Please contact the YouthQuest Main Office at (810) 600-1422 for more information.
PLEASE NOTE: Limited spots are available. A completed registration/application form does not ensure acceptance into the program. A YouthQuest staff member will contact you regarding your child's application status within three (3) business days. 
---
Contact Info
For more information, call the YouthQuest Main Office at (810) 600-1422 or contact your school's site team leader:
Accelerated Learning Academy (9-12): Korie D. Harden, (810) 922-2685
Brownell STEM Academy: Miranda Manns, (810) 922-4139
Doyle Ryder Elementary: Site temporarily combined with Potter Elementary
Durant Tuuri-Mott Elementary: Keoshia Cook, (810) 922-1965
Eisenhower Elementary: (810) 600-1422
Freeman Elementary: AlexeaRay Youmans, 810-922-2254
Holmes STEM Middle School Academy: Brandon Nuby, (810) 444-0050
Neithercut Elementary: (810) 600-1422
Pierce Elementary: Danielle Williams, (810) 922-0867
Potter Elementary: Alluna Calloway-Lang, (810) 922-2350
Southwestern Classical Academy: Gloria Henley, (810) 922-0483
---
School Year Intersession
As Flint Community Schools will follow a balanced calendar this year, students will be in school for approximately 45 days followed by a five-day break called intersession. During intersession, students who need help mastering day school material will be invited to attend morning sessions at their school.
Through the Flint Community Education Initiative, these students may stay through the afternoon to participate in engaging, hands-on activities provided by YouthQuest.
Learn more about the balanced calendar
YouthQuest is a no-cost after school initiative operated by Flint & Genesee Education & Talent through the generous support of the Charles Stewart Mott Foundation and others.