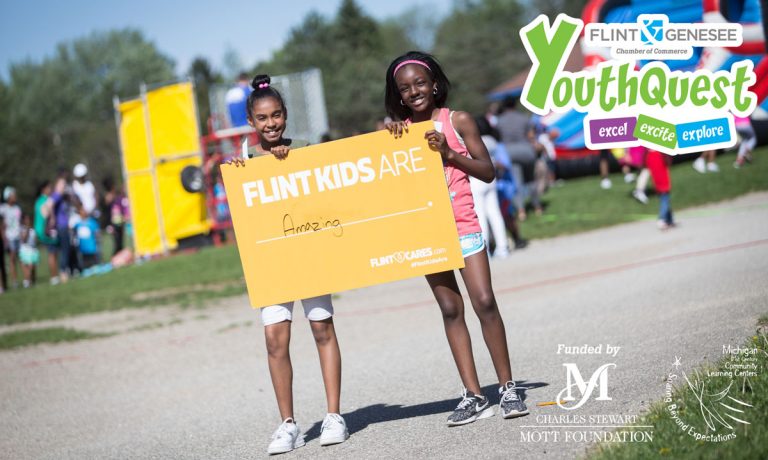 Afterschool
For the 2019-20 school year, afterschool programming at Flint Community Schools will begin August 19, 2019 and will be offered Monday through Thursday.
Directions for Applying Online
We recommend using a desktop or tablet to complete this form. If using a smartphone, please scroll to the bottom of the screen and select "Switch to Desktop Version."
Click the link above or here – www.ezchildtrack.com/YQuest/parent
If your child was registered for YouthQuest's summer program, you may already have an account in our new system. Please contact your YouthQuest site team leader, call the YouthQuest office at 810-600-1422 or email YQ@yquest.org for next steps.
If your child was not registered for YouthQuest's summer program, select the "Register" button under the "New Parents Open Account" section on the right.
Follow the prompts to register your child(ren) for the YouthQuest School Year 2019-20 program. Complete the information for you, your emergency contacts and your children. You can sign up all your children at once.
On the bottom of the Terms & Conditions page, select the "Submit Application" button. You will receive a confirmation email that your application has been received.
You will receive an email when your child(ren) have been accepted into program.
If you have any issues using our new online system, please contact the site team leader for your site or contact the YouthQuest office at (810) 600-1422 or YQ@yquest.org.
---
Intersession
As Flint Community Schools will follow a balanced calendar this year, students will be in school for approximately 45 days followed by a five-day break called intersession. During intersession, students who need help mastering day school material will be invited to attend morning sessions at their school.
Through the Flint Community Education Initiative, these students may stay through the afternoon to participate in engaging, hands-on activities provided by YouthQuest.
Learn more about the balanced calendar
---
Contact Info
For more information, call the YouthQuest Main Office at (810) 600-1422 or contact your school's site team leader:
YouthQuest is a no-cost after school initiative operated by the Flint & Genesee Chamber of Commerce through the generous support of the Charles Stewart Mott Foundation and others.