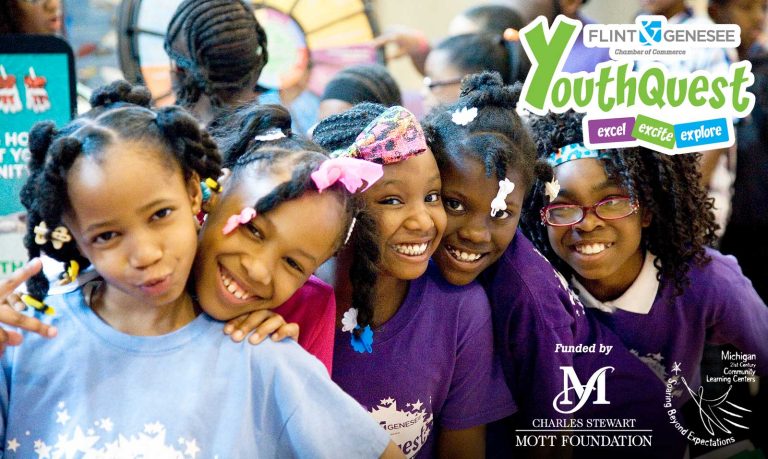 Excel. Excite. Explore.
Welcome to YouthQuest … a no-cost, innovative afterschool enrichment program for K-12 youth in Flint & Genesee County, Michigan.
Summer 2019 Application Information
To apply for the summer YouthQuest program, please fill out an application at your school*. For more information, contact the Site Team Leader at your school or the YouthQuest Main Office at (810) 600-1422 for more information. Space is limited and application does not guarantee acceptance.
Flint Community Schools – Summer Program from June 24 to July 25
Summer Schedules: Grades K-5 | Grades 6-7 | Grade 8 | Grades 9-12
*For Flint Community Schools only – if your student is not enrolled at a Flint School, but lives within the boundaries of the City of Flint, you may apply to attend a YouthQuest summer program. Please contact the YouthQuest Main Office at (810) 600-1422 to apply. Space is limited and application does not guarantee acceptance.
Brownell STEM Academy: Marjona Kemp, (810) 922-4139
Doyle Ryder Elementary: Keoshia Cook, (810) 922-1965
Durant Tuuri-Mott Elementary: Keoshia Cook, (810) 922-1965
Eisenhower Elementary: Jenna Ruiz, (810) 444-0050
Freeman Elementary: Brittany Miller, (810) 922-5082
Holmes STEM Academy: Brook Borrow, (810) 922-5497
Neithercut Elementary: Donna Tanner, (810) 922-5585
Pierce Elementary: Miranda Manns, (810) 922-0867
Potter Elementary: Alluna Calloway-Lang, (810) 922-2350
Scott School: Korie D. Harden, (810) 922-2685
Southwestern Classical Academy: Valerie Newman, (810) 922-0483
Carman-Ainsworth Community Schools – Summer Program from June 17 to August 1; Hosted at Randels Elementary
The Carman-Ainsworth Community Schools Summer Program is open to students from Dillon, Dye, Randels and Rankin elementary schools currently in grades K-5. 
Dye Elementary: Jordan Kleinedler, (810) 922-0341
Randels Elementary: Bridget Sims, (810) 922-4075
International Academy of Flint – Summer Program from July 8 to August 8
Grades K-6: LaQuanda Hammons, (810) 922-0926
Grades 7-12: Michael Fortelka, (810) 922-5524
---
About YouthQuest
YouthQuest takes a holistic approach to learning; it's fun, engaging and experiential, and it's connected to the school day. This approach not only improves students' overall performance at school, but contributes to work-ready skills such as team work, problem-solving, critical thinking and healthy decision making.
YouthQuest also plays an important role in connecting schools with our communities. We're moving beyond the traditional classroom activities and we're exposing youth to neighborhood organizations, local theater and museums, health and fitness programs, and interesting leaders in the community.
What can we do for our kids? Spend some time in Flint & Genesee and see what's possible.
Academic Program: Reading, Math and Science
Academic-based activities are supported by curriculum designed especially for after school.
Nutrition
A nutritious dinner and snack are provided as part of the after school program. Local school districts along with area grocers and restaurants are supporting YouthQuest's food service and student learning experiences.
Enrichment, Physical Fitness, Health
YouthQuest partners with a variety of community organizations to provide cultural and educational enrichment activities and skill building. Areas of focus include academics, sports, performing arts, technology, arts and crafts, civic involvement, and social, nutritional and physical engagement.
Youth Development and Leadership
Youth development and leadership skill building is an important component of the program. These key areas are addressed:
Technology
Introduction to computers and computer-related technology
Instruction on appropriate uses of technology
Life Skills
Personal development
Personal hygiene
Positive relationship building
Conflict resolution
Career Awareness
Value of a team – both as a member and as a leader
Character Education
YouthQuest focuses on values that prepare students for positive social engagement.
Volunteerism for YouthQuest Students
In addition to academic and social activities, YouthQuest students learn the importance of volunteering. Working jointly with their peers and their learning guide, they identify projects or a cause to which they can contribute their time, skill or talents. Children quickly learn how great it feels to help others and often inspire their friends to volunteer.
Youth Advisory Council
Each school has a Youth Advisory Council comprised of YouthQuest students and children who are not YouthQuest participants, but attend the same schools. The council members provide input on enrichment activities and more, or if they are not currently a YouthQuest participant, they might express a desire to join YouthQuest.
YouthQuest is a no-cost after school initiative operated by the Flint & Genesee Chamber of Commerce through the generous support of the Charles Stewart Mott Foundation and others.