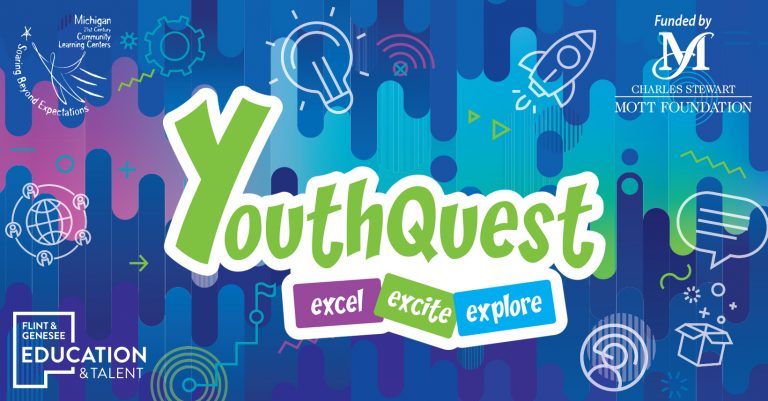 YouthQuest
Welcome to YouthQuest – a high-quality afterschool enrichment program in Flint and Genesee County, Michigan.
2021-22 School Year Program
PLEASE NOTE: Limited spots are available at each school/site. A completed registration/application form does not ensure acceptance into the program. A YouthQuest staff member will contact you regarding your child's application status within three (3) business days. 
YouthQuest at Flint Community Schools limited spots available at select schools/sites.
Apply Here!
YouthQuest at Flint Cultural Center Academy: Summer Session begins July 11, 2022
Apply Here!
YouthQuest at International Academy of Flint: Application/registration is currently closed. Please contact the YouthQuest Main Office for questions or more information.
2021 Lights On Afterschool
YouthQuest and COVID-19
Since the outbreak of coronavirus in Michigan, YouthQuest is closely monitoring and complying with guidance provided by local, state and federal partners including the Genesee County Health Department, State of Michigan and Centers for Disease and Control. YouthQuest  works closely with our partner school districts to align our programming with day school formats and protocols.
Resources for Families
As families continue to adjust, YouthQuest is here to help. We are regularly updating a list of community resources available during this public health crisis.
For more information, please connect with your Site Team Leader or call the YouthQuest Main Office at (810) 600-1422.
YouthQuest is a no-cost afterschool initiative operated by Flint & Genesee Education & Talent through the generous support of the Charles Stewart Mott Foundation and others.