Procurement Technical Assistance Center (PTAC)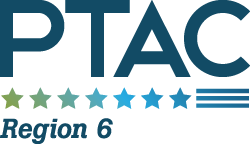 The Region 6 PTAC provides procurement advice and counseling to Michigan companies interested in doing business with local, state, and federal governments and is funded in part through a cooperative agreement with the Defense Logistics Agency and MEDC. PTAC has a track record of successfully preparing local businesses to win government contracts on the local, state and federal levels.  We can help you navigate the government contracting maze.
The highly accessible team will work with you from start to finish providing flexible, responsive and confidential counsel.
As a PTAC client, you gain the value of working with a team that is certified in federal contract management, experienced in all levels of government contracting, proposal development and opportunity identification.
PTAC serves seven counties, including:  Shiawassee, Genesee, Lapeer, St. Clair, Sanilac, Tuscola and Huron.
PTAC clients can receive:
Individualized business counseling
Registration and Certifications
Identification of local, state and federal bid opportunities
Support with bid proposals
Training/networking/matchmaking events
Federal Acquisition Regulations
Procurement award history
And more…
Contact PTAC
Stacy Betts, Regional Director, PTAC
p: 810.600.1432
e: sbetts@flintandgenesee.org
Renee Watson, CTA, PTAC Counselor
p: 810-600-1438
e: rwatson@flintandgenesee.org
Jasmine McKenney, Sr. PTAC Counselor
p: 810.600.4066
e: jmckenney@flintandgenesee.org
Maureen Miller, PTAC Counselor
p: 810.600.4075
e: mmiller@flintandgenesee.org
Ashley Sanders, PTAC Counselor
p: 810.600.1437
e: asanders@flintandgenesee.org
Save
Save
Save
Save
Save
Save
Save
Save