Flint & Genesee Data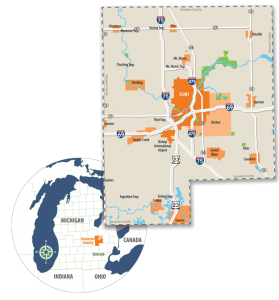 Genesee County is home to 408,615* residents, more than 6,700 businesses employing nearly 173,000 people, and serves as a regional hub for commerce, culture, employment, and education.
Flint is the largest city in Genesee County with an estimated population of 98,310*. The cities of Davison, Fenton and Grand Blanc also anchor the region.
Browse through the data in the menu to see why Flint & Genesee is the home for your business.
Please contact us to receive other regional information specific to your business location or expansion project.
*U.S. Census 2016 estimate
Flint & Genesee: At-a-Glance

Diversifying the Economy to Create More and Better Jobs
7,463 new private-sector jobs created since December 2011 – 7% growth in new jobs with average annual earnings of $51,780.
(Source: Emsi)
Stimulating Personal Wages in Flint & Genesee
Wage growth in Genesee County increased by 24.8% from 2010-2015 in total, overall wages (from $3.9 billion to $4.8 billion)
(Source: Michigan Bureau of Labor Market Information & Strategic Initiatives)
Improving Flint & Genesee's Unemployment Rate
In December 2016, the unemployment rate for Genesee County, which includes Flint, was 5.0%. (Not Seasonally Adjusted)
(Source: Michigan Bureau of Labor Market Information & Strategic Initiatives)
Increasing Home Values
Home prices rose by 3.26% in 2016 compared to 2015.
(Source: Multiple Listing Service of the East Central Association of REALTORS®)
Cultivating a Positive Business Climate
$503 million total investment and contract value supported by the Flint & Genesee Chamber of Commerce in 2016.
Flint & Genesee tourism generated over $131 million in economic impact in 2016.
(Source: Flint & Genesee Chamber of Commerce Annual Report)