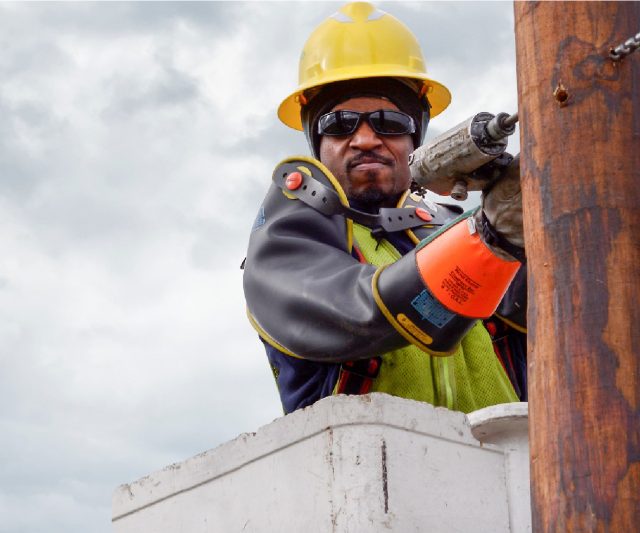 Mott Community College Workforce and Economic Development Division has partnered with Consumers Energy to be a training site for the Electric Lineworker Pre-Apprenticeship Training Program. The program prepares students for careers as electrical power-line installers and repairers, working on cables or wires used in electrical power or distribution systems. This job may also include erecting poles and light- or heavy-duty transmission towers.
"Many people rely on electrical powerline installers and repairers every day," said Robert Matthews, Associate Vice President for Workforce and Economic Development. "This career field is growing, with more than 100 job openings each year, and a pay range of $60,000+ annually. This a wonderful opportunity to get the skills training needed for a high-demand career."
****
Goyette Mechanical Co., Inc., is its existing headquarters into a high-profile, state-of-the-art headquarters and training facility on a refreshed campus site in the heart of Flint. The project is expected to generate a total private investment of $4.65 million and create 90 skilled-trades and professional jobs, resulting in a $675,000 Michigan Business Development Program performance-based grant. Michigan was chosen for the expansion over competing sites in several other states including New Jersey and Pennsylvania, among others. "We are very proud of our nearly 100 years of doing business and creating jobs in Michigan and excited about the opportunity to further expand our footprint and workforce in Flint," said Goyette Vice President Cherie' Parks. "It's promising to see the State of Michigan support projects like ours and businesses that are investing and growing in Flint and Genesee County." Founded in 1928, the company has grown to one of the largest plumbing and HVAC service companies in Michigan with permanent offices in Flint, Ann Arbor, Pontiac, Tawas and Oscoda.
****

Genisys Credit Union has been named in the Top 15 of "Top-Performing" Credit Unions in the United States by S&P Global Market Intelligence. They would like to extend a sincere thank you to their members for their continued loyalty and entrusting Genisys to be their credit union of choice on their financial journey. The credit union is one of only three Michigan credit unions to rank in the Top 50, ranking 15th nationwide. Credit unions were evaluated using six core financial performance metrics that focused on profitability, asset quality, and growth for the 12-month period ending Dec. 31. A total of 1,727 credit unions qualified for the rankings.
****
The Ally Challenge presented by McLaren on April 14 announced the United Way of Genesee County (UWGC) will be the primary beneficiary of net proceeds for the fourth-annual tournament. The 2021 tournament will mark the third consecutive year that UWGC has been included as a primary beneficiary of The Ally Challenge. "Choosing the United Way of Genesee County again allows the proceeds to be deployed across the region to a wide variety of organizations that do so much for area residents," said Andrea Brimmer, chief marketing and public relations officer at Ally. The tournament has raised nearly $3.2 million for local charities since 2018.
**** 
On May 13 and May 19, 100K Ideas will host a virtual Venture Capital/Angel Funding Workshop at 5:30 p.m. each day. Matt Okoneski, associate at Red Cedar Ventures and Michigan Rise, will be the featured speaker. The workshop will discuss how VC firms work, how to decide if venture investment is right for your business, and most importantly, what goes on inside the head of a VC. Click here to learn more about the workshop as well as to register for the event.