Al Serra Auto Plaza is once again number one in new and used vehicle sales in Michigan, according to WardsAuto Dealer Business. The industry magazine also ranks Al Serra as fourth in the nation out of nearly 18,000 dealerships in the U.S. in its 33rd Annual List of the Top 500 Automotive Dealerships.
"I know I've said this countless times before, but all the credit for this achievement belongs to the team we have here," said Matt Serra, Al Serra Auto Plaza's executive manager. "Day in and day out, their dedication to serving our customers to the best of their ability is nothing short of amazing!"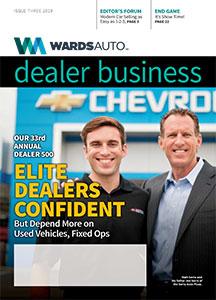 Last year was another strong year for the automotive industry and that momentum has carried over through the first half of 2019, he added. Serra and his father, Joe Serra, president of Serra Automotive, are featured on the cover of the current issue of WardsAuto Dealer Business.
The magazine reported that Al Serra Auto Plaza had total unit sales of 13,358 and $433,385,024 in total revenue. Meanwhile, Serra Automotive had unit sales of 23,566 and revenue of $761 million. Total employment for Serra Automotive stands at 1,970 up from 1,861, according to WardsAuto.
"In addition to our total commitment to our customers, we have the advantage of 12 franchises, offering car buyers the opportunity to shop a wide range of exciting new vehicles with just one stop," said Matt Serra. "But we know we can't take anything for granted. We need to continue to work hard, continue to grow and improve in every department. As the saying goes, it's difficult to get to the top, but it's harder to stay there."
Matt Serra told the magazine that the dealership has worked with Cleveland-based The DiJulius Group to enhance its customer service training. The company's clients include Starbucks, Chick-fil-A, Nordstrom and The Ritz-Carlton, among others.
"They showed us how to get all 450 people at the Auto Plaza rowing in the same direction to deliver the best customer experience," he told WardsAuto. Their message: "Create big impacts through small acts."
In related news: For the second straight year, both Al Serra Chevrolet and Al Serra Subaru of Grand Blanc have been certified in the J.D. Power 2019 Dealer of Excellence Program,SM which recognizes a select number of vehicle dealerships throughout the U.S. that provide exceptional customer service.
Known for its "Voice of the Customer" research for 50 years, J.D. Power and, subsequently, its Dealer of Excellence Program help consumers identify leading retailers that will go the extra mile.
According to J.D. Power, buying a vehicle is a significant financial transaction and can be stressful because there's so much information to digest. The Dealer of Excellence Program assists auto buyers who are looking for an exceptional dealership where they can confidently buy a vehicle. Certified dealers also benefit by leveraging the J.D. Power brand and promoting their dealership's commitment to an outstanding customer purchase experience.
Dealer of Excellence is an exclusive program and not all dealerships can qualify. Those that do must pass a rigorous three-step process.
"This certification sets us apart, especially coming from such an authority as J.D. Power," said Matt Serra. "I am extremely proud of each and every member of the Al Serra team and I applaud the effort they put forth on a daily basis to help make our customers' sales and service experiences the best they can be."
Al Serra Chevrolet and Al Serra Subaru of Grand Blanc are both part of the Al Serra Auto Plaza on south Saginaw Street in Grand Blanc Township. The Al Serra Auto Plaza is the flagship of the Serra Automotive network, which ranks among the top 10 privately-held automotive groups in the nation. The network is currently comprised of 55 automotive franchises and 42 dealerships in seven states, including Michigan, Illinois, Indiana, Ohio, Tennessee, New Jersey and Colorado.