Today, seven businesses vied for the top spot in the 2017 Catapult Business Competition, with Smart Shelf LLC in St. Clair County winning first-place and taking home the $5,000 grand prize.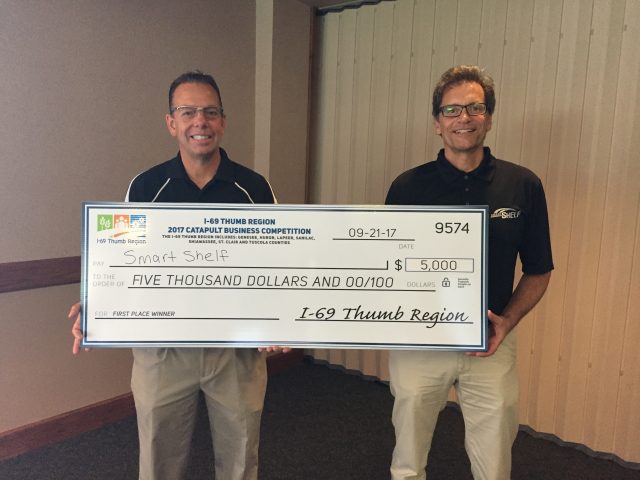 The final round was held today as part of the 6th Annual Regional Summit, hosted by the I-69 Thumb Region at the Lapeer Country Club. Cash prizes of $3,000 and $1,000, respectively, were awarded to second-place winner Town to Town Gourmet Pastries (Shiawassee County) and third-place finisher Thumb Roast Coffee (Sanilac County).
Each of the seven competing businesses advanced to the finals after winning the county-level contests. The I-69 Thumb Region includes Shiawassee, Genesee, Lapeer, St. Clair, Sanilac, Huron and Tuscola counties.
The other contestants were: Happy Little Greens Farm (Genesee County); Simply Enjoyable Snacks (Lapeer County); Imperial Sauces (Tuscola County); and Kyle's Kindling (Huron County).
Judging the final round were: Dom Holmes, Manager of Entrepreneurship and Innovation, Automation Alley; Neal Bishop, Area Manager, Local Government and Community Affairs, International Transmission Company; and Peggy Nolde, Director, Genesee County Equalization Board.
"It's exciting to see small businesses from across the I-69 Thumb Region take center stage to show off their diverse products and businesses," said Derek Bradshaw, Director of the Genesee county Metropolitan Planning Commission. "It's great to see so many entrepreneurs cultivating their business ideas. I hope the competitions were able to provide an opportunity to showcase and market their small, growing businesses."
The competition was created in 2016 to help entrepreneurs and small-business owners reach the next stage in growing their businesses. The prize money is designed to help winning contestants retain and grow Michigan businesses by providing capital to launch, expand production or hire staff.
The half-day regional summit was also used to recap major projects and successes of 2017, and feature panel discussions on development tools and incentives, and housing development in the seven-county region.
The I-69 Thumb Region is a partnership of the Shiawassee Economic Development Partnership, Flint & Genesee Chamber, Lapeer Development Corporation, Economic Development Alliance of St. Clair County, Sanilac & Huron County Economic Development Corporation and Tuscola County Economic Development Corporation.